Ukraine
A number of stories appear in the papers this morning following the Defence Secretary's announcement during his visit to Brussels yesterday. The Independent writes that Britain will take a lead role in a new NATO rapid-reaction force aimed at bolstering defence of eastern European allies, committing up to 1,000 troops and 4 fighter jets to nations fearful of Russian aggression. Elsewhere, the BBC reports that the UK will contribute 1,000 troops and 4 RAF Typhoon jets for "air policing" in eastern Europe.
Defence Secretary, Michael Fallon, said:
NATO's credibility in the face of the security challenges we face depends on everyone playing their part to implement the decisions taken at Wales last year. The Readiness Action Plan demonstrates the Alliance's commitment to reinforce our collective defence but strong words must be backed up with firm action. That is why I am delighted to announce that the UK will lead the Very High Readiness Joint Task Force in 2017 and contribute to the Baltic Air Policing mission again in order to put the Plan into practice.
Muslim Recruits
There is widespread coverage this morning of the Army's recruitment drive to recruit personnel from more Black, Asian and Minority Ethnic (BAME) backgrounds. The Daily Mail says Army Chief's are launching the recruitment drive among British Muslims to plug a manpower gap and tackle Islamic radicalisation. The paper carries a quote from Colonel Richard Kemp who commanded British forces in Afghanistan which says that "the vast majority [of Muslims] are not involved in extremism but there would have to be very careful security vetting to ensure we do not recruit people who could turn against us". General Sir Nick Carter's comments that his highest priority is ensuring we continue to have the best possible talent throughout the Army, requiring us to draw talent from all of the society we represent is carried throughout the coverage. The Guardian says that there are currently 480 Muslims in the Army out of an overall strength of 88,500 which works out at 0.54% - an increase from 300 in 2008. The Times says the campaign is focused on leafleting Islamic schools and targeting Sikhs and African-Caribbean communities. The article goes on to say that the number of Muslims in the Army fell by 15% in the past 2 years, which is a slightly sharper drop than overall numbers across the force.
The Chief of the General Staff, General Sir Nicholas Carter, said:
My highest priority is ensuring we continue to have the best possible talent throughout our Army. This requires us to draw talent from all of the society we represent.  Our recruitment from the Black, Asian and Minority Ethnic communities has been improving over the years, but it is nowhere near where it needs to be. We have to do more.  The Army has always played an important role in making the connection to all elements of society and there are plenty of examples of initiatives that have built enduring relationships with minority communities.  The values and standards we espouse resonate closely with these communities and there is much common ground that we can build on to broaden our recruitment base.
Imam Asim Hafiz OBE MA, Islamic Religious Advisor to Chief of the Defence Staff and Service Chiefs said:
Diversity is one of our nation's greatest strengths and it is only right that our armed forces benefit from that capital. This not only brings them closer to the people that they serve, but also enhances the military's cultural understanding when deployed. In my view, the values of the armed forces are fully compatible with the values of Islam as well as other faiths. Anybody wishing to pursue a career in the services, regular or reserve and is prepared to work hard can be assured of a very rewarding experience.
Defence Spending
The Telegraph this morning writes that Europe has slashed military spending too far according to a former head of NATO who has warned that President Putin has dangerous ambitions beyond Ukraine and aims to test Western resolve in the Baltic states. Anders Fogh Rasmussen, former secretary-general, said the Kremlin's true goal was to shatter NATO solidarity and reassert Russian dominance over eastern Europe.
We are clear that with the second largest defence budget in NATO, and the largest in Europe, this government is committed to spending 2% of gross domestic product on defence. The Prime Minister recently reiterated his commitment to maintaining the armed forces at the level they are now. Decisions on spending after financial year 2015-16 will be determined in the next Comprehensive Spending Review. We are not going to speculate on the outcome of an Strategic Defence and Security Review which will only begin after the general election.
Image of the day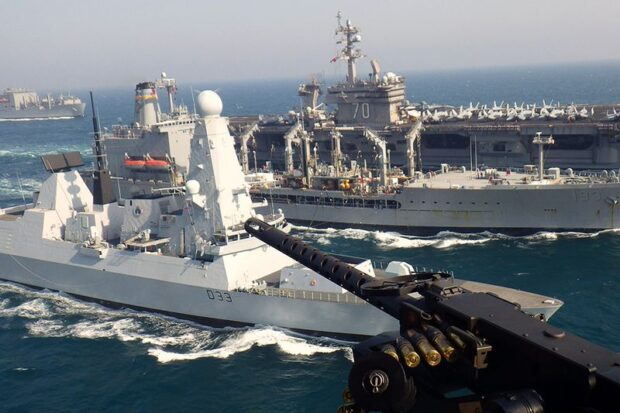 Follow us on Twitter and don't forget to sign up for email alerts.