Today's defence related news includes coverage of the Army Combat Power Day on Salisbury Plain and the Invictus Games team announcement.
Image of the day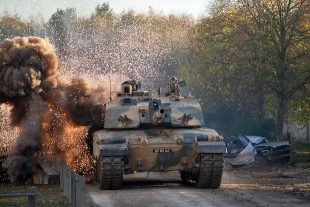 Army Combat Power Day
Positive coverage and imagery is carried by Press Association and Mail Online. Coverage is visually-led, with striking pictures from yesterday's demonstrations.
The Mail Online describes how the Army showcased its strength by blowing up Russian tanks in a "breathtaking display of power," during mock combat situations as part of the annual Army Combat Power Demonstration. Pieces reflect that the event is designed to showcase the capability of the Army, its soldiers and their use of advanced technology, adding that those present witnessed Apache helicopters in action, as well as a number of armoured vehicles.
Invictus Games team announcement
Following PA copy published yesterday, positive articles on the announcement of the UK team are carried in The Telegraph, Daily Express, The Scotsman, The Herald, Press & Journal, and BFBS online and also featured in yesterday's Evening Standard.
Defence Secretary Ben Wallace, said:
I wish the best of luck to the team selected to represent the UK at the Invictus Games next year and look forward to following their journey from training camps to The Hague. The Invictus Games are a powerful reminder of the ability of sport to inspire and support the recovery of wounded, injured and sick serving personnel and veterans.
Follow us on Twitter, join us on Linked in and Follow our Instagram page and don't forget to sign up for email alerts.