Highlighted Defence coverage includes the announcement of the death of Abu Bakr al-Baghdadi by US special forces in Northwest Syria and a feature documentary on the HMS Queen Elizabeth aircraft carrier.
Daesh leader Abu Bakr al-Baghdadi killed by US military
The story of Daesh leader Abu Bakr al-Baghdadi's death by US special forces is covered on the front page of almost every newspaper and leads the broadcast headlines this morning for BBC, Sky, The Sun, Telegraph, Times, The Independent and The Daily Mail .
Print reporting focuses on the rise and fall of Abu Bakr al-Baghdadi, from controlling a territory the size of Britain at the peak of Daesh's powers in 2014 to the detonation of his suicide vest, killing himself and three of his children.
Defence Secretary Ben Wallace said:
"ISIS is one of the most murderous terrorist organisations of our generation. Their leaders have twisted Islam to groom thousands of people into joining their evil cause.
"I welcome the action that has been taken. The world will not miss Al-Baghdadi.
"The UK has played a leading role in the Global Coalition Against Daesh, working hand in hand with international partners to defeat the group and we will continue to do so."
Read the government's full statement.
HMS Queen Elizabeth stars in BBC 2 documentary
In the first of a three-part series named 'Britain's biggest warship', the BBC followed the crew onboard HMS Queen Elizabeth as they undertook afour month deployment to the United States
The show interviewed the ship's Commanding Officer, Captain Jerry Kyd, and followed the ship's company as they dealt with on-board incidents, Russian ships, and the first successful landing of Lightning jets on the aircraft carrier.
Watch the first episode in the series.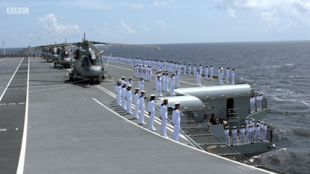 Follow us on Twitter, join us on Linked in, follow our Instagram page and don't forget to sign up for email alerts.