Today HMS Bulwark rescued over 400 migrants in the Mediterranean. The Royal Navy flagship was alerted to four craft in potential distress approximately 40 miles off the coast of Libya. Each 30-foot inflatable boat was reported to be carrying approximately 100 migrants, including a number of pregnant women and children.
Landing craft from HMS Bulwark and a Merlin helicopter from 814 Naval Air Squadron are involved in the response. Over 225 personnel have been recovered to HMS Bulwark so far with another 220 expected later this morning.
Captain Nick Cooke Priest, Commanding Officer of HMS Bulwark, describes today's rescue mission: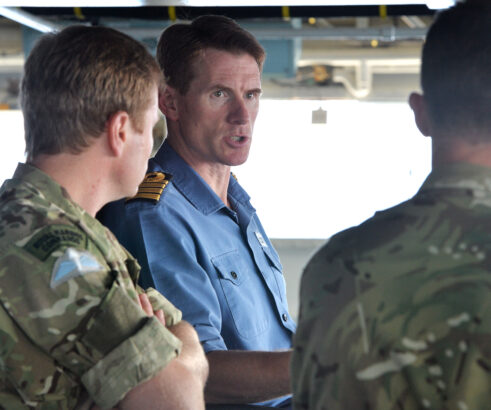 We've been monitoring the weather for several days and there were indications that the rough conditions we've seen in the Mediterranean over the past 48 hours were easing. Calmer seas mean migrant movement is more likely, so positioned Bulwark in an area where we would be best placed to respond.

I have eight landing craft, which are capable of carrying hundreds of personnel, large equipment and heavy vehicles. For this task I was able to configure them into two distinct boat groups, and with the embarked Merlin helicopter, deploy them over the horizon to Search and Rescue.

At around 3am today we received indicators that there were migrant craft in the area and by 5am we had deployed the boats into two groups, ready to conduct rescues at dawn. The sea conditions were as we had predicted, very calm, and soon after sunrise we were transferring hundreds of migrants from four inflatable boats to our landing craft.

In navy parlance these precarious boats were 'full to the Gunwales', including many people with dehydration, those with injuries, very young children and several pregnant women. The weather at the moment is extremely hot so my Ship's Company and I are very pleased that we were able to bring them to safety. It's unclear what would have happened to them but the risk of further injury or worse is of course considerable. We re-configured our boat crews to include medics so we were able to offer the right support in the right order. We were calm and compassionate first, because many of the people rescued were understandably distressed, and then we moved quickly to offer practical essentials such as water and medical care.

The people rescued have now been transferred safely back to HMS Bulwark and we will take them to port in due course. I'm proud of the superb professionalism of my team and we will continue to operate as effectively as we can in support of our current task.
The video below is of the operation that took place earlier today.
Follow us on Twitter and don't forget to sign up for email alerts.