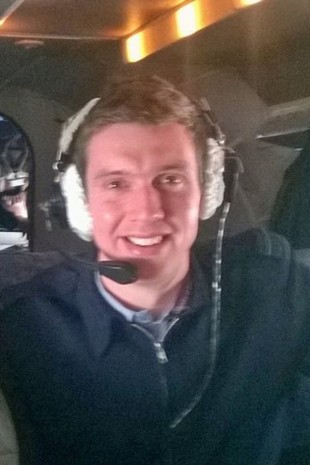 There has been lots of media coverage of unannounced Russian aircraft being intercepted by RAF Typhoon fighter jets in recent weeks. Today, the flight of a Russian military Antonov aircraft over the UK this weekend has also attracted lots of media attention.
Quick Reaction Alert (QRA) flights by RAF Typhoons are scrambled in response to unidentified aircraft approaching the UK. These are in direct contrast to flights by foreign militaries under an international 'Open Skies' agreement which take off from the UK and have RAF personnel on board.
This weekend's Antonov flight was one such Open Skies flight. Pilot Officer Leo Collins, who works in the Arms Control and Counter Proliferation team at the MOD and was on the flight, outlines the facts.
I work as part of a team which basically looks after the wide range of international conventional arms control agreements and confidence building measures that the UK is party to. One of the long-standing treaties we administer is called 'Open Skies' which came into force in January 2002 and currently has 34 signatory nations.

Open Skies establishes a program of unarmed aerial surveillance flights over the territory of its participants and is aimed at building confidence and familiarity through participation in over flights. It was under this agreement that the Russian military deployed an Antonov 30 (unarmed photography aircraft) to RAF Brize Norton in Oxfordshire and it was there that I joined the aircraft, with several of my RAF colleagues, to monitor the flight as it flew across the UK.

The flight in question was pretty routine. The route was first pre-approved by the MOD and RAF and then flown as per the flight plan. Such sorties are commonplace, reciprocal and have been going on for many years. Indeed, at the same time as we were hosting the Russians, representatives from the RAF were conducting a similar flight over Russia.

When Open Skies flights occur over the UK, we always have RAF representatives onboard – and the UK always gets to see all the photos which were taken on the flight.

So why do we do it? The opportunity to observe each others' territories is invaluable for transparency and the development of international trust between nations. In addition, aside from observing their work in the sky, we also get to interact professionally and to learn more about the culture of the nation in question; in this instance interacting with our Russian counterparts.

So, was this a dark and shady intelligence gathering exercise mounted by our enemies? No - instead it was a hugely valuable and professional experience for both nations – and long may that continue.