Yesterday, Defence Secretary Michael Fallon appeared on BBC Radio 4's World at One Programme to discuss defence spending.
As the Secretary of State pointed out, Britain has always punched above its weight and the US has long seen us as an indispensable partner in operations right around the world. With nearly 4,000 personnel engaged in global operations, ranging from tackling Ebola in Sierra Leone, helping to deter Russian aggression in Ukraine, to fighting ISIL in the Middle East.
We have made it very clear that when the target was published last year that we met it then, and we have made it very clear that we're going to go on meeting it in this financial year.
The 2015 Strategic Defence and Security Review will be driven by a hard-headed appraisal of our foreign policy and security objectives and the role we wish our country to play, as well as the risks we face in a rapidly changing world. By undertaking such a full and comprehensive look at future threats, alongside the Comprehensive Spending Review, we are able to look at the future and be sure that Armed Forces have what they need.
It is now a balanced Defence budget… It tells you that we can run a defence budget properly, and so well that you can invest for the future. We're building two aircraft carriers, seven Hunter-Killer submarines, there are new armoured vehicles on order for the army, we're buying the Joint Strike Fighter to go on the carriers. It is because we have sorted out the defence budget that we're able to invest in equipment.
 The US have always wanted European members of NATO to take a greater share of the burden, the UK is one of only four countries that does spend 2%.
 When the Defence Secretary was asked whether we should scrap Trident to make savings, he committed to renewing our continuous at sea nuclear deterrent with four submarines.
Every successive government has renewed the nuclear deterrent and that decision faces this Parliament next year when we have to replace the boats. We have to be sure that we can keep this country safe for the period right up to 2060.
You can listen to the full interview here (13:15).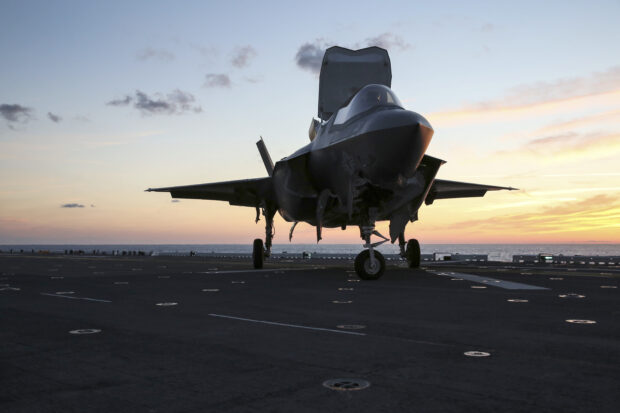 Follow us on Twitter and don't forget to sign up for email alerts.