A variety of defence-related news features across both the broadcast and print media, with reports on a second night of airstrikes by Turkey in Iraq dominating.
Death of Lance Corporal Michael Campbell
Following the yesterday's announcement by the MOD, many of the papers report on the on the death of Lance Corporal Michael Campbell following an operation at Birmingham's Queen Elizabeth Hospital. He was shot in the hip in 2012 in Afghanistan when crossing a road during a patrol. Despite being wounded LCpl Campbell continued to suppress the enemy drawing fire onto himself so that the remainder of the multiple could cross an open and exposed area to get into better cover. Total operational deaths from Afghanistan now numbers 454. 
Turkey Air raids in Syria
Following the launch of airstrikes by Turkey in Syria, a leader article in The Daily Telegraph suggests that it is Turkey that has a far greater capacity than the UK to shape events in the Middle East. Turkey has previously been accused of deliberately turning a blind eye to fighters crossing into Syria from Turkish territory but it has now reversed its position, with the suggestion that this has the potential to significantly realign the pieces on the Middle Eastern "chess board". 
SAS ISIL raid in Turkey
The Daily Mirror splashes with a story that counter terror police have smashed a plot to launch terror attacks on tourists in Turkey. It says more than 5,000 officers seized 250 terror suspects including ISIL members in dawn raids across Turkey yesterday. The article claims SAS, MI5 and MI6 involvement and includes a quote from a military source saying that Turkey had been planning this raid for months as they were worries about a Tunisia style attack that would ruin their tourism economy. It is noted that it is thought several of those arrested could be British.
Corporal David Gillies
The Daily Mail reports that a British soldier who saw a comrade killed by a Taliban bomb was court-martialed for allegedly slapping him two weeks before his death. The paper suggests that that 29 year old Corporal David Gillies was "dragged" through the military courts even through his alleged victim was killed more than two years ago. Cpl Gillies, who has been medically discharged from the Army, is quoted through the article saying the case was a farce.
The MOD is clear that decisions to prosecute Service Personnel are independently taken by the Service Prosecution Authority, who fall under the responsibility of the Attorney General, rather than the MOD.
Navy printed UAV
In what is thought to be a world first, news that a UAV made by a 3D printer was launched from HMS Mersey this week is reported in The Times. It flew for five minutes with an onboard camera capturing images of the sea below before landing on Chisel beach. The UAV weighs 3kg and has a maximum speed of around 100 mph and at a cost of several thousand pounds is much cheaper than the traditional UAVs which cost millions of pounds. Professor James Scanlan from Southampton University is quoted saying "if a pirate shoots the UAV down, you just throw up another."
First Sea Lord, Admiral Sir George Zambellas said:
Radical advances in capability often start with small steps. The launch of a 3D-printed aircraft from HMS Mersey is a small glimpse into the innovation and forward thinking that is now embedded in our Navy's approach.
FOI tribunal
The Financial Times reports that the MOD has won a legal battle that backs the MOD's decision to deny parts of a freedom of information request that asked to provide the details of how it oversaw a contract to supply the Saudi Arabian National Guard. While article states that it is alleged that the deal involved corrupt payments, we have always said that to disclose the information would jeopardise counter-terrorism co-operation.
An MOD Spokesperson said:
We are pleased that the Tribunal agreed with the Information Commissioner's assessment that the information requested should not be released under the Freedom of Information Act. It would not be in the public interest and would harm relations with the Kingdom of Saudi Arabia (KSA), which is an important ally in combating terrorism and with whom we have close bi-lateral relationship on a wide range of issues, including trade, investment and wider defence matters.  
Army sexual assault campaign
The Independent reports on the Army's launch of an "unambiguous" campaign on sexual assaults. It is the first time the Armed Forces have launched a campaign aimed at rape and sexual assault, and initiated by General Sir Nick Carter amid concern over sexual offending in the military. Posters will be displayed in barracks and training centres across the country.
An Army spokesperson said:
The Chief of General Staff has acknowledged that changes must be made to make the Army a modern employer capable of recruiting talent from all elements of society. The Consent Campaign, which has been endorsed by Rape Crisis and Stonewall, is the latest in a number of internal initiatives that the Army has launched to ensure all of its employees act lawfully and treat each other in a way that is consistent with our values and standards. This internal campaign addresses concerns that are common in wider society and in organisations where young people live and work together.
 Image of the Day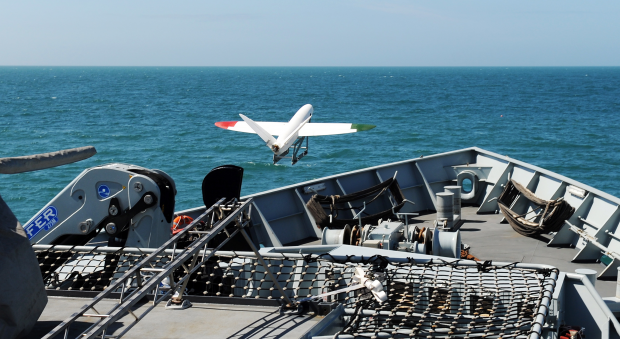 Follow us on Twitter and don't forget to sign up for email alerts.