There is widespread coverage in the media today of yesterday's VJ Day commemorations, marking 70 years since the end of the Second World War with Japan's surrender to the Allies in the Pacific.
Coverage of the VJ Day 70th anniversary commemorations includes images on the front of the Sunday Telegraph, Observer, Independent, Sunday Express and Daily Star of Second World War veterans. Articles reference that the Queen led the nation in marking the 70th anniversary of VJ Day and attended a moving service in the morning, before thousands of veterans were saluted by a guard of honour and took part in a drumhead service at London's Horse Guard's Parade. Several articles reference heightened security in London amid fears of terror attacks, but the Sunday Times comments that these concerns did nothing to discourage the Royal Family, veterans and thousands of spectators. The Mail on Sunday featured an interview with Dr Bill Frankland, believed to be the oldest Prisoner of War to take part in yesterday's events, at the age of 103.
Afghanistan
There are two articles about former interpreters for British forces in Afghanistan today. The Sunday Telegraph reports that Defence officials are to review the case of an Afghan man who worked as David Cameron's translator and who wants to move to Britain because he fears he could be killed by the Taliban. The Sunday Times (paywall) reports that a former British army officer has been trying to help an Afghan interpreter, who saved his life during a patrol in Helmand, cross the Channel illegally so he can move to Britain.
 Our position on the issue is here:
We recognise the vital role local staff, including interpreters, played in operations in Afghanistan. That is why, as well as offering a generous redundancy package in recognition of this service, we have an expert team in Kabul, including experienced detective inspectors, to thoroughly investigate claims of intimidation made by local staff. The team provides bespoke security advice, assists with relocations within Afghanistan and, where necessary, relocation to the UK. We look carefully at every case and they can of course be re-opened should new evidence of intimidation emerge.
Separately the Sunday Mirror speculates that British Special Forces are back at war in Afghanistan, fighting both Isil terrorists and the Taliban just a year after David Cameron said the war was over. It's our long-standing policy that we don't comment on Special Forces.
Parachute Regiment
The Sunday Express carries an article questioning the future of the Parachute Regiment, including comments reportedly made by a serving Army Colonel who suggested questions must be asked about the regiment's operational role as a strategic intervention force.
Our position is here:
The Parachute Regiment provides the core of the British Army's elite rapid reaction force, the Air Assault Task Force (AATF). The AATF remains constantly at very high readiness to deploy anywhere in the world to conduct the full range of military missions; either unilaterally or as part of a multi-national partnership with our close Allies.

Britain's Armed Forces are world-class and we know how important it is to invest in them, which is why we have committed to spending 2% of GDP on Defence for the next decade, including £160 billion to make sure our people have the equipment they need to keep Britain safe.
Cyber Warfare
The Sunday Times speculates that the Government is to increase funding for cyberwarfare as much as tenfold to counter the "hacking threat" posed by Russia and China. The paper reports that Britain's offensive cyber programme will see a £2bn increase over the next five years following recommendations expected to be made during the Strategic Defence and Security Review by Joint Forces Command. The article quotes a senior defence source suggesting it is likely cyber will get a boost of some sort but adding that numbers haven't been discussed.  
Amputees
The Sunday Times (paywall) carries calls by Mark Ormrod, a Royal Marine and Britain's first triple amputee from the Afghanistan war, for sweeping changes to the way amputee veterans are cared for. A report written by Jon White, a former captain in the Royal Marines, urges Ministers to overhaul the way the NHS and MOD care for amputees, the paper reports. 
A Government spokesperson said:
Our Armed Forces make a tremendous contribution and sacrifice and deserve the very best support. For personnel who remain in service, the MOD will continue to provide their prosthetic services. When they become veterans, the NHS provides this service, and the NHS has committed to providing the same standard of world-class clinically appropriate prosthetic care that Service personnel receive. This commitment is for life. 
ISIL hit list
The Sunday Times (paywall) reports that ISIL terrorists have singled out British RAF bases where US personnel are based in the UK for "lone wolf" attacks, according to a hitlist drawn up by a British couple in Syria. Homegrown extremists, the article suggests, are being urged to carry out atrocities at locations including RAF Lakenheath and RAF Mildenhall. Our position is that security arrangements at UK military establishments are regularly reviewed to ensure the appropriate safety and security of staff.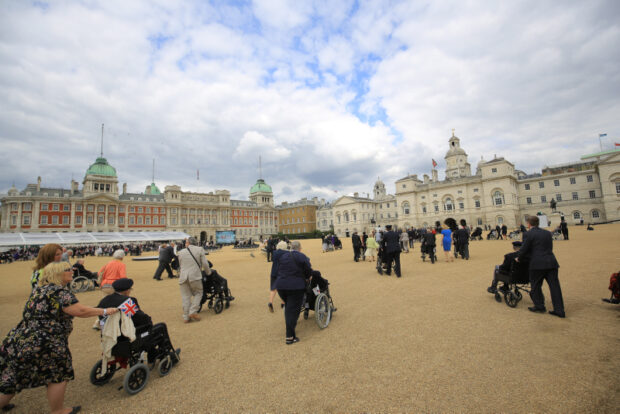 Follow us on Twitter and don't forget to sign up for email alerts.