Prominent in the media this morning are reports that four British jihadis are to face global travel bans and asset freezes and the apparent disagreement between President Obama and Vladimir Putin over preferred approaches to the conflict in Syria.
Help for Heroes
Today's Times claims that Help for Heroes and the British Army have spent 'tens of millions of pounds' on a network of recovery centres for wounded soldiers and veterans where beds have been left empty.
The same outlet carries a similar editorial on the subject, saying that charities have a duty to spend wisely and the media has a duty to hold them to account.
An Army spokesperson said:
The requirement for the Army Recovery Capability (ARC) was identified in response to a growing need to look after our people differently. The need for this capability, including Personnel Recovery Centres (PRCs), was established by the MoD and was developed at some speed in partnership with H4H and TRBL. There was a shared vision to meet the challenges of Iraq and especially Afghanistan. We believe what we have delivered is a significant achievement in an incredibly short period of time, which meets an enduring need and provides infinitely better support than was available previously.

Inevitably in an unprecedented project of this complexity, aspects of implementation across units within the Army have had to be adjusted – and greater numbers of wounded, injured and sick Personnel are now using the PRCs during their recovery, alongside Veterans who receive ongoing support from our charity partners.
In addition, an MOD spokesperson said:  
The Defence Recovery Centres offer a range of recovery courses and facilities to meet the individual needs of Wounded Injured and Sick (WIS) personnel. Not everyone that benefits stays overnight so occupancy rates are not a true reflection of usage or success. Courses run at the centres are very well attended and we continually look at recovery provision to ensure it provides the most appropriate services.
UN terror list
Today, the Guardian and Telegraph report that British jihadists, said to be plotting attacks for ISIL, have been added to a global "banned list" by Prime Minister David Cameron in an attempt to tackle home-grown terrorism. Media outlets report that this is a clear warning to British citizens considering joining ISIL and that extremists who fled to the Middle East have had their bank accounts frozen and face detention if they try to travel.
It is also reported that the Prime Minister is to create a new £10 million counter-propaganda unit to challenge ISIL's attempts to recruit new fighters, to be based in the Foreign and Commonwealth Office, and separately, a special sub-committee of the National Security Council that will consider how to tackle the extremist group and end the civil war in Syria, will be brought into existence.
Peacekeeping
The Independent follows up on yesterday's widespread coverage, reporting that British troops are to be deployed to Somalia as part of peacekeeping efforts to counter Islamic militants. As has already been reported, the paper highlights that up to 70 personnel will be sent to bolster a UN-backed mission to push back against al-Shabaab extremists and that another 250-300 could also be deployed to South Sudan. The articles highlight that the Prime Minister says this twin approach could help to curb the flow of refugees towards Europe. 
Afghanistan
Outlets today are reporting that Taliban fighters are taking the city of Kunduz in northern Afghanistan, highlighting that it is the first major city they have seized since losing power in 2001. Reports also suggest that hundreds of prisoners are said to have been freed, including Islamist militants. This story is reported in Telegraph and Guardian, with the BBC reporting that Afghan forces are now preparing their counter-attack against the insurgents.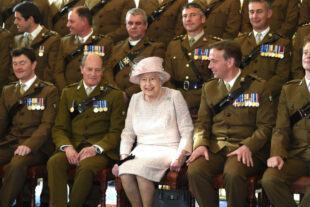 Follow us on Twitter and don't forget to sign up for email alerts.