Speaking to the Andrew Marr programme on BBC 1 this morning, Defence Secretary Michael Fallon discussed a range of topical defence issues including ISIL, Russia and UK air strikes in Syria. Watch the full interview on BBC iPlayer.
Legal claims against UK Armed Forces
The Sunday Telegraph reports that litigation following recent campaigns in Iraq and Afghanistan has cost the Government almost £150 million, and that ministers are considering plans to pull out of the European Convention on Human Rights next time the Armed Forces are sent into combat.
We are concerned about potential damage to the Armed Forces to operate effectively as a result of recent developments in human rights law, and about the large numbers of compensation claims and judicial reviews brought by law firms which are time-consuming and can cost the taxpayer millions. Most notoriously, the allegations that prisoners taken in battle were murdered and mutilated by British forces, which were finally exposed as false by a public inquiry at a cost of £31 million to the taxpayer.
 The MOD's full position on this story is as follows:
The MOD is looking closely at this issue and as the Government's manifesto made clear, we will ensure our Armed Forces overseas are not subject to persistent legal claims that undermine their ability to do their job. Ministers have commissioned detailed work on this and will make any further announcements in due course.
Military assets  
The Independent on Sunday claims that the inclusion of retired jets, grounded helicopters and ageing tanks in an official list of Britain's military assets has been labelled a "disingenuous" attempt inflate the military's size and defence capability. The piece goes on to say that the outdated kit is included in the MOD's "Defence in Numbers" booklet that was released last week.
 A MOD spokesperson said:
This booklet is intended to provide a snap shot of the UK's Defence capability, and how we are spending the fifth largest Defence budget in the world. As well giving details on civilian and personnel numbers and current operations, it also includes a list of the MOD's equipment holdings, the vast majority of which are in service and deployable.
 MOD police
The Observer reports that 170 Ministry of Defence Police (MDP) officers are under investigation for a range of alleged offences.
Our position is as follows:
The Chief Constable expects all of his officers and staff to behave with the highest levels of professionalism and integrity, and any allegation of criminal or disciplinary conduct is taken very seriously. Where such allegations are made they are fully investigated and, if substantiated, the MDP will respond accordingly with criminal and or disciplinary action.
MOD gas safety
According to The Sunday Times, the MOD is under investigation after it emerged that hundreds of military families are living in homes that do not have valid gas safety certificates.
Our full statement is below:
Annual gas safety checks are carried out in all occupied houses and we urge all military personnel to ensure access to their property at the appointed time for scheduled tests.  Certificates generally become out of date due to lack of access.  This issue is a priority for the MOD and the number of homes which do not currently have a valid landlord's gas safety certificate has decreased dramatically since August 2015.
Sgt Thompson – compensation claim
The Mail on Sunday includes a story about Colour Sergeant Albert Thompson, who was accused of shooting another soldier in a friendly-fire incident, and who – the paper says – has been "secretly" paid £500,000 in compensation for stress.
Given the complex nature of the claim, it was not possible to be certain what decision the court would reach on liability. In these circumstances it was right and proper to reach an appropriate settlement. Our full statement is below:
We can confirm a claim was received from Mr Henderson and this was settled out of court. The settlement took account of our continuing duty of care towards Mr Henderson and represented a fair outcome for him, the MOD and the taxpayer.
Marine affair
The Sunday Mirror writes about a married Royal Marine Warrant Officer who is alleged to have had an affair with the wife of a fellow Marine.
A Royal Navy spokesperson said:
We do not comment on personal matters.  Anyone found to fall short of the Royal Navy's high standards can expect to face appropriate action.
ISIL
There are various reports, including in The Daily Telegraph, that David Cameron is to "unleash a £5 million Twitter war on ISIL", but reports add that he faces accusations of not spending enough. 
Image of the day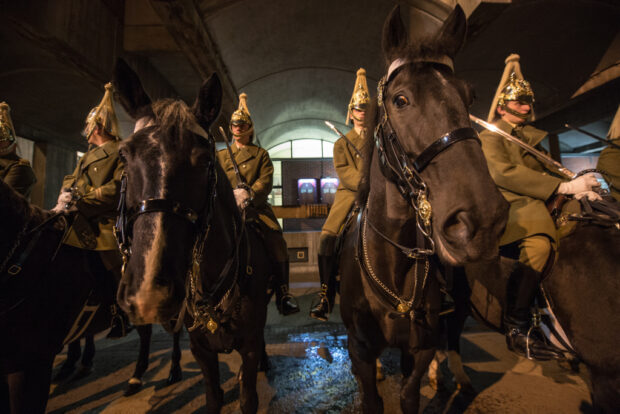 Follow us on Twitter and don't forget to sign up for email alerts.