Thousands of troops and their families have bought their own home as a result of the successful home-buying scheme Forces Help to Buy, which was launched in April 2014.
As announced this month, the MOD has loaned £75.7m to around 5,000 applicants within the last 18 months. And a further 1,900 personnel have had their applications approved and are awaiting completion of property purchases.
Forces Help to Buy allows military personnel to borrow a deposit of up to half of their annual salary, interest free, towards buying a home, extending their current one or moving to another property. The £200m scheme is now half-way through its three-year trial. The loan can be used towards a deposit and other costs such as solicitor's and estate agent's fees.
Read how three service personnel have benefited from Forces Help to Buy.
SAC(T) Gareth Hill, 32, has served in the RAF for eight years. He borrowed £14,800 to enable him to buy a three-bedroom detached home in King's Lynn, Norfolk. He picked up the keys in June and is currently working as a member of an engineering ground crew at RAF Marham.
SAC Hill, who maintains and repairs the airframes and engines of the Tornado GR4 aircraft, said:
This is our first home. Zoe and I got married back in 2010 and since then have lived in Service Family Accommodation at two RAF stations. We got our little dog a couple of years ago and now with our first born due early 2016 we are becoming a little family.

It has always been a dream of mine to own my own home and with our first born due I thought it was more important to put roots down now. Owning our own home means that my family will always have a home, and if I was to be posted away from my current placement then the child's education will not have to jeopardised with changing schools and if the worst was to happen to me then they will not have to move to a strange place and start over again.

The Forces Help to Buy scheme is a great tool either to use as a deposit or just to top it up. Yes there are other payments to make if you borrow over the £10,000 mark, however the savings on a mortgage that it will allow you to make far outweighs the extra payments.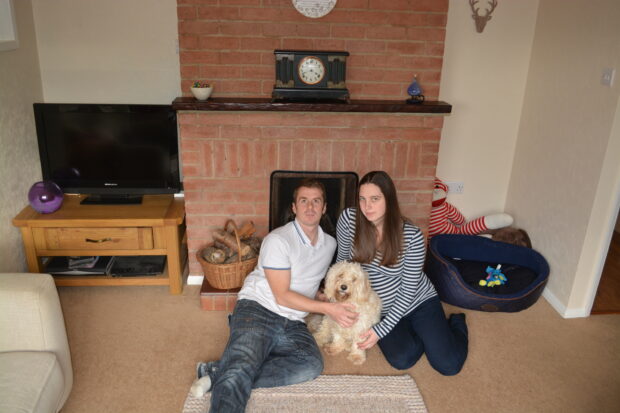 Lance Bombardier Joel Daye, who joined the Army in 2008, borrowed £10,000 through Forces Help to Buy. In April he and his wife Simona moved into their first home – a three-bed, detached house in Hampshire. Having been married for six years, their new home has given them a permanent base and somewhere to raise their daughters Arielle, three, and five-month-old Gabriella.
L/Bdr Daye, 34, of 12th Regiment Royal Artillery based in Emsworth, said:
Owning our own home means a lot to us. Our way of life has improved as the area we moved into is so lovely. Arielle spends most of her time playing in the garden and there is no traffic down our road, making it nice and quiet.

We wanted to purchase our own home as we saw the rent of Service Families Accommodation, as little as it was, as wasted money and thought it could be put to better use paying a mortgage. We used the loan to pay for the Stamp Duty and all fees, which freed up funds to put towards making it the house of our dreams.

L/Bdr Daye and his family outside their new home
SAC Mark Reynolds, 26, joined the RAF in 2007. He borrowed £9,500 for his mortgage and purchased a three-bedroom, semi-detached home within a new estate in Downham Market, Norfolk. He hopes to receive the keys by mid-November once the build is complete. He currently works at RAF Marham as an aircraft technician.
SAC Reynolds, who got married last November, said:
This will be the first property I have owned. We rented property together beforehand and realised that we wanted to actually get onto the property ladder. One of my fellow colleagues had used the scheme and explained that he had found it useful, so with this in mind we decided to go ahead with it.

We would have really struggled with saving for the deposit if it wasn't for this scheme. With this scheme the money will automatically come out of our wages and we won't even need to worry about it. Owning our home is going to be a massive step forward for us. We have always wanted a place to call home and be able to tastefully decorate it to our style.

If you are even thinking about buying your own house and have the monthly funds for a mortgage available, then do it. Myself and my wife parted with very little money for the solicitor's fees and were very surprised as to the ease of the application process.

SAC Reynolds works at RAF Marham.