Today's defence news includes stories on war medals, Deepcut barracks, Syria and flooding.
WAR MEDALS
The Daily Express and Daily Mirror carry a story about a war veteran who had his medals stolen by burglars and had to pay the MOD for replacements. Our position is as follows.
A MOD spokesperson said:
We are indebted to all those who serve our country. Veterans can of course claim their original medals, dating all the way back to WWII, free of charge. Replacements are only issued in exceptional circumstances, such as burglary or theft, and are provided at cost. The MOD makes no profit from replacement medals.
DEEPCUT BARRACKS
Today's Sun contains a feature looking at the historical culture at Deepcut barracks ahead of the second inquest into the death of Pte Cheryl James which starts next week.
A MOD spokesperson said:
Our thoughts remain with the family and friends of Private Cheryl James. The inquest will now be a matter for the coroner, but we will of course continue to cooperate with and provide support to the coroner where needed.
SYRIA
The Guardian reports that the UK is urging Syrian opposition not to hand Assad a propaganda coup by boycotting this week's Geneva talks because they object to some of the groups invited to the conference by the UN. The paper says that the Foreign Secretary has made the appeal as negotiators representing opposition meet in Riyadh, "thrashing" out a crucial decision on whether to attend.
FLOODS
Flooding continued to be covered in the papers, including in the Daily Telegraph and The Guardian, as Storm Jonas brought more rain and gale-force winds to parts of the UK yesterday. The papers write that The Environment Agency deployed temporary defences and pumps in Cumbria yesterday and put military teams, including military personnel, in place across Yorkshire.
IMAGE OF THE DAY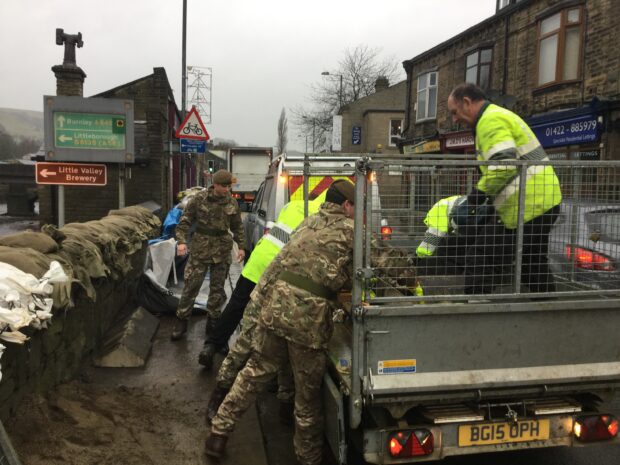 Follow us on Twitter and don't forget to sign up for email alerts.