This morning's broadcast headlines are led by the news that the EU and Turkey have agreed the broad principles of a plan to ease the migration crisis, but have delayed a final decision ahead of another EU meeting next week.
HELICOPTER CRASH
The Times, the Sun and the Daily Express report on the ongoing inquest at Oxford's Coroner's Court into the deaths of five Service Personnel, who died when their Lynx helicopter crashed in Afghanistan in 2014. Articles focus on an altitude detector failing to sound to alert the crew that they were close to the ground, with reports saying the MOD's investigation found this was because the detector was set too low, while family members claimed there were 'mechanical failings'. The inquest continues.
An MOD spokesperson:
"This inquest is currently ongoing. The MOD are supporting the coroner and it would not be appropriate to comment further.  Our thoughts remain with the family and friends of  those who died in the incident at this difficult time."
RFA MOUNTS BAY
Wrapped into wider reporting on the migrant crisis and yesterday's EU summit are references to the deployment of the Royal Fleet Auxiliary amphibious landing craft, RFA Mounts Bay, to the Aegean. Reporting says the ship will work as part of a wider NATO mission to intercept the flow of migrants from Turkey to Greece. 
RFA Mounts Bay is a key ship in the Royal Fleet Auxiliary (RFA) which is a civilian-manned maritime fleet owned by the MOD. As part of the Naval Service it delivers worldwide logistical and operational support for the wide range of tasks the Royal Navy undertakes. RFA ships have been involved in operations from South Atlantic to the Indian Ocean ranging from including counter-piracy and humanitarian work to disaster relief and counter-narcotics operations.
In addition to logistical support, the Bay Class ships (of which Mounts Bay is one) can embark and transport hundreds of personnel including Royal Marines. They can accommodate large numbers of vehicles and act as a floating dock for amphibious craft with their capacity to create a submerged dock at the aft of the ship. They also have a helicopter flight deck which on this operation will be hosting a Wildcat helicopter.
You can read more about the deployment here.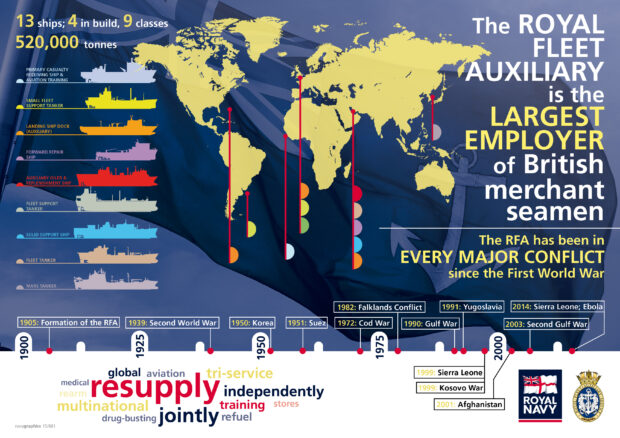 AJAX
Following coverage in Welsh media yesterday, including BBC Wales and ITV Wales, a small article in the Times says that a surge in engineering investment in South Wales continues, with the announcement by the MOD that a disused forklift truck site in Merthyr Tydfil will be the assembly, integration and testing plant for the Army's new Ajax vehicles. The piece adds that the opening is set to create 250 skilled jobs in the region.
Minister for Defence Procurement Philip Dunne said:
"The opening of this new facility is a major development for both Merthyr Tydfil and the British Army. It is another reminder of the importance of Defence investment right across the UK: the Ajax programme alone is sustaining 2,800 jobs across the country, 550 of which are here in Wales. This new facility, like the next generation vehicle it will produce, is more evidence of our £178 billion commitment to provide our Armed Forces with the equipment they need. Thanks to the close partnership between the UK Government and industry, this site will spring back in to life as a significant centre of employment and bring in valuable skills with a lasting legacy for the entire region."
BASSINGBOURN 
The Daily Telegraph and the Guardian report that a man raped by two Libyan cadets who were training with the British Army at Bassingbourn Barracks in Cambridgeshire is now suing the MOD for negligence. Articles add that a woman who was the alleged victim of sexual assault by another group of Libyan trainees on the same night is also seeking compensation. An MOD spokesperson said:
"We can confirm that compensation claims have been received by the department. As the claims are ongoing we are unable to comment further."