In today's items of interest for Defence there are reports about the conviction of a man who plotted to attack US personnel in East Anglia, investment in cyber defences and discussion of HMS Clyde's role patrolling and protecting the Falklands.
Terror conviction
A range of outlets cover yesterday's conviction of delivery driver Junead Khan of planning a Lee Rigby-style terror attack against US servicemen at an RAF base in East Anglia (Telegraph, Guardian, Daily Mirror, Daily Mail, Times, FT, Independent). The articles say Khan had driven near to bases operated by the US in East Anglia, including RAF Lakenheath, Feltwell, Alconbury and Molesworth. Article say detectives found Khan, 25, had been exchanging online messages with a Daesh fighter in Syria calling himself Abu Hussein, and also report that prosecutors said he was British-born Junaid Hussein who was killed in a US strike near Raqqa.  
Cyber defence
The Financial Times carries a page lead about the MOD announcement of a £40m investment in a cyber defence operations centre, which is expected to be based at MOD Corsham in Wiltshire. The article says the British defence network is the largest computer network in Europe and the department's Information Systems and Services branch has the responsibility of protecting it.
Defence Secretary Michael Fallon visited Corsham yesterday, and said:
Britain is a world leader in cyber security but with growing threats this new operations centre will ensure that our Armed Forces continue to operate securely. Our increasing defence budget means that we can stay ahead of our adversaries in cyber space while also investing in conventional capabilities.
Royal Navy ships
 The I front page (Independent) alleges that the Royal Navy has withdrawn Falklands protection because of a staffing shortage alongside reports about HMS Dauntless and HMS Lancaster.  
Our position on the article is here. A Royal Navy spokesperson said:
HMS Dauntless and HMS Lancaster are not mothballed and remain very much part of the fleet. The Navy is meeting its commitments from the Baltic Sea to the Gulf and the Falklands remains well-protected via the patrol warship HMS Clyde, a Royal Fleet Auxiliary support ship and around 1,200 personnel operating RAF Typhoons and ground defences.
Saudi visit
The Independent carries articles referencing the Defence Secretary's engagement visit to Saudi Arabia and the Gulf region this week. The outlet puts focus on three death penalty cases.
The government's position on this subject is below. A Government spokesperson said:
The Defence Secretary visited Saudi Arabia to discuss a range of regional issues. The UK is opposed to the death penalty in all circumstances and we make our views well known to Saudi Arabia. We have raised these particular cases at the highest levels and will continue to do so. Our expectation remains that the three individuals will not be executed. 
Read more about the aims and key moments of the Defence Secretary's Gulf visit.
Drone attack threat
The Daily Telegraph, Mail, Independent report that President Obama and Prime Minister Cameron have warned of the prospect of Daesh getting hold of a 'dirty bomb' which could be used with a drone to attack western cities. The leaders discussed the threat at the Nuclear Security Summit in Washington yesterday.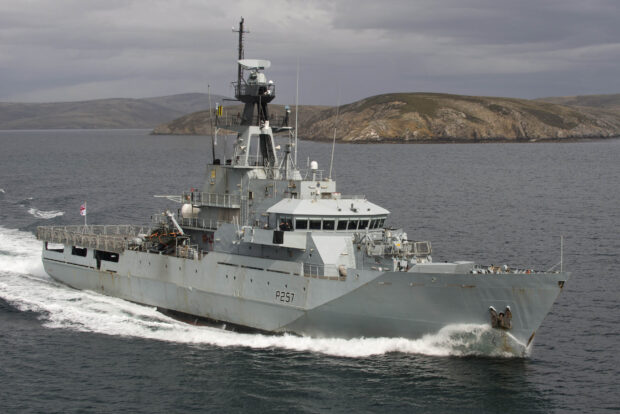 Follow us on Twitter and don't forget to sign up for email alerts