The Defence Infrastructure Organisation (DIO) has uncovered prehistoric monuments, Anglo-Saxon graves and military features from WW1 and WW2 during pre-development works on MOD land in Bulford, Wiltshire, which is earmarked for 227 new Army family homes
.  

The archaeological features were first discovered during standard pre-planning application trenching, by a specialist team from Wessex Archaeology, working on behalf of the DIO and its consultants WYG. Further investigations within the site revealed an Anglo-Saxon cemetery of about 150 graves. Artefacts found in the graves included spears, knives, jewellery, bone combs and other personal items. One of the burials has been radiocarbon dated to between AD 660 and 780 which falls in the mid-Anglo-Saxon period in Britain. 
The development is part of wider plans to accommodate the 4000 additional Army personnel and their families who will be based on and around Salisbury Plain by 2019 under the Army Basing Programme (ABP). In total, the MOD is planning to invest more than £1 billion in the area which will provide about 1000 new homes for Service families, 2500 new bed spaces for single soldiers and the construction, conversion or refurbishment of 250 other buildings within military bases, such as offices, garages, workshops and Mess facilities.
A further phase of excavation is planned to examine the two prehistoric monuments beside which the Saxon cemetery was established. These appear to consist of Early Bronze Age round barrows that may have earlier, Neolithic origins. They are likely to be granted scheduled monument protection by Historic England and will be preserved in situ in a part of the site that will remain undeveloped. Neolithic pits outside the monuments contained decorated 'Grooved Ware' pottery, stone and flint axes, a finely made disc-shaped flint knife, a chalk bowl, and the bones of red deer, roe deer and aurochs (extinct wild cattle).
During WW1 the site was used for training and there is evidence that a field farrier may have re-shoed horses at the site before they were sent off to war. The site was also home to WW2 firing ranges where an answer to the devastating effects of German tanks was tested. The PIAT anti-tank weapon first saw action during the Allied invasion of Sicily in 1943 and there is evidence to suggest that the weapon was fired at stationary armoured vehicles on site as a training exercise.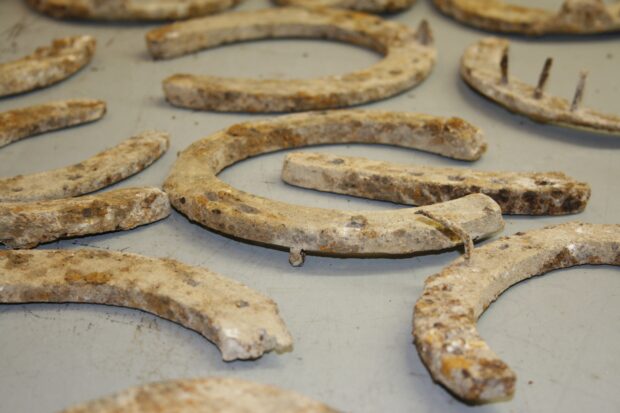 All graves have now been excavated. Work on the homes is expected to get underway from early 2017.  
DIO Army Basing Project Manager Andy Corcoran said: "The discovery of this important Saxon cemetery was completely unexpected. It's incredibly interesting and early site investigation and involvement of our archaeological specialists has kept this project on track. Every care has been taken to ensure the archaeological remains on the site have been carefully excavated and recorded, as part of the MOD's continuing stewardship of the archaeology of Salisbury Plain."
Si Cleggett of Wessex Archaeology said: "The size, location and date of this cemetery makes it of considerable research importance. It contained the graves of women, men and children and was clearly the burial ground for a local community, perhaps that of Bulford's earliest families. It included a number of re-used graves, a rare occurrence at this time, which may have held members of the same family." 
Clare King, Assistant County Archaeologist at Wiltshire Council has been involved with the project from the start, working with the project team to develop the strategy for the site and then monitoring the archaeological works on behalf of the council as the planning authority. She said: "The archaeological work that uncovered these exciting remains was undertaken as part of the normal planning process and we are pleased that, as a result,  it has been agreed some of the most significant archaeology will be preserved within the planned open space. The remains date from the prehistoric to the modern periods and add new chapters to the story of Bulford. These finds are a great example of the fantastic range of archaeology that lies unseen under our county waiting to be rediscovered, and how sustainable development can help to tell us more about our past."  
Martin Brown, Principal Archaeologist at WYG added: "This site has clearly been a special place for thousands of years, and it has been an enormous privilege to manage the archaeological work for DIO, not only working on such exciting archaeology but also using evidence to help make the new homes special for their new occupants."