Today's defence related news includes coverage of the announcement the UK will send up to 100 extra personnel to the UN peacekeeping mission in South Sudan.
Peacekeeping
There is further reporting today, including in The Telegraph, the Guardian and the Sun that the UK will send up to 100 additional personnel to support peacekeeping in South Sudan. This builds on the commitment made last year by the then Prime Minister to deploy 300 peacekeepers.
Defence Secretary Michael Fallon said:
This large scale deployment underlines how we are stepping up our global commitments.

Backed by a rising defence budget, it's part of our effort to tackle the instability that leads to mass migration and terrorism. It will help keep Britain safe while improving lives abroad.
Read more on the UK's support in South Sudan here.
The Defence Secretary announced this uplift at yesterday's UN Peacekeeping Defence Ministerial, where he welcomed representatives from 80 nations to London. The event included discussion on a number of peacekeeping issues, new pledges, and a guest speech by UN Special Envoy Angelina Jolie Pitt.
Read more on the peacekeeping ministerial here.
Afghanistan
The Times and The Scotsman report that the Taliban have pushed into the capital of the Southern Uruzgan province. With local government forces claiming they only controlled a small amount of the city, they have asked for support from the Kabul central government, the papers say, adding that the Afghan Ministry of Defence has since claimed the Taliban had been repelled.
Australia-UK Ministerial
The strong bond between the UK and Australia will be reaffirmed today as Foreign Secretary Boris Johnson and Defence Secretary Michael Fallon welcome their Australian counterparts to the Royal Hospital in Chelsea for annual talks on foreign and security policy.
Defence Secretary Michael Fallon said:
Britain and Australia have a rich history of close military partnership and our defence alliance is as strong as ever. From vital intelligence sharing to the fight against Daesh, we're working together to keep our people safe.
Russian Warship
The Daily Telegraph, The Sun and Daily Mail have all reported that HMS Tyne has escorted two Russian warships through the English Channel in the last two months.
Image of the Day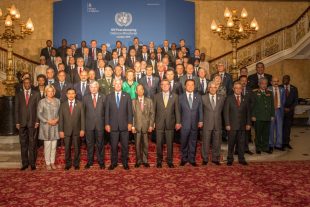 Follow us on Twitter and don't forget to sign up for email alerts.