The Defence Secretary's opposition to an EU army leads defence-related news today.
EU ARMY
The Daily Mail, The Sun and The Daily Express report on comments made by Defence Secretary Michael Fallon yesterday. Speaking at a meeting between EU defence ministers, he made clear that the UK would oppose any idea of an EU army, claiming that this would undermine NATO. The UK is not alone in its opposition to an EU army, with Poland, Sweden, the Netherlands, Lithuania and Latvia also expressing concerns over the plans.
A Government spokesperson said:
Our views on this have been made clear in the past – we work bilaterally with a number of member states for our national security and NATO is the bedrock of our collective security.

FIGHT AGAINST DAESH
There has been continued coverage of the UK's fight against Daesh in The Telegraph, The Sun and The Herald.
Defence Secretary Michael Fallon said:
Daesh is being defeated. It is being driven back. It now occupies less than 10% of Iraqi territory. So two years on we're making significant progress. This remains a hard fight. Yet Britain will not waver in our efforts to defeat the evil of our age.
NUCLEAR POLICY
There has also been coverage of the UK's policy on nuclear weapons in The Guardian and The Scotsman.
Defence Secretary Michael Fallon said:
MPs on all sides have voted by an overwhelming margin, to renew our nuclear deterrent - the ultimate guarantee of our national security. We have voted to protect our nation from the most serious threats we may face in the 2030s, 2040s and 2050s.

The British Parliament has sent a powerful message to our allies that Britain is stepping up its international commitments, not stepping back from them. We will now get on with building the next generation of nuclear submarines to help keep the nation,  and our allies, safe for decades to come.
IMAGE OF THE DAY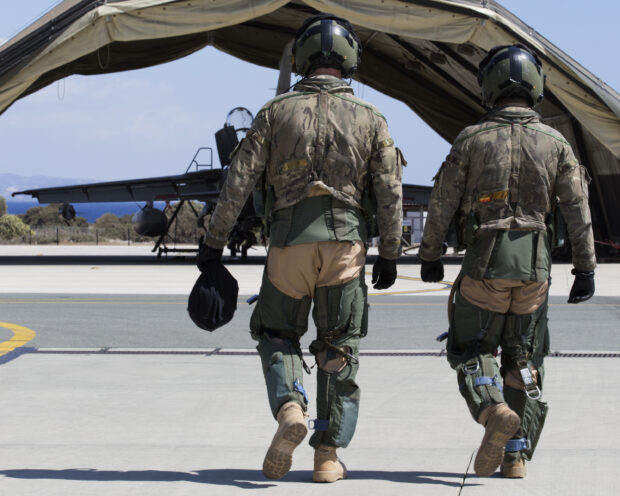 Follow us on Twitter and don't forget to sign up for email alerts.