Defence news today includes the Defence Secretary's visit to Portsmouth Naval Base to see further preparation for the Queen Elizabeth Class aircraft carriers.
Portsmouth
The Portsmouth News reports on Defence Secretary Sir Michael Fallon's visit yesterday to Portsmouth Naval Base, following on from broadcasts last night on BBC South, ITV Meridian and Wave 105. The paper reflects that during his visit Sir Michael was able to witness the preparation work being done ahead of the arrival of Britain's biggest ever warships. The article adds that investment in the aircraft carriers shows Britain is stepping up, not stepping back.
Defence Secretary Sir Michael Fallon said:
Britain's new aircraft carriers are the biggest and most powerful warships ever built for our Royal Navy.  The over £100 million being invested in Portsmouth Naval Base will ensure that it is a fitting and state-of-the-art home for our new warships from spring next year. The Queen Elizabeth and Prince of Wales will lead our powerful and growing Royal Navy and reflect that, in a dangerous world, Britain is stepping up.
Medals
There is continued coverage on the Government's support of a bill to prosecute sham veterans who wear medals they have not earned. Articles are carried in The Telegraph, The Mirror and The Herald, and report on Minister for Defence Procurement Harriett Baldwin's "fury" at the practice.
Defence Minister Harriett Baldwin said:
Wearing unauthorised medals is harmful because it undermines the integrity of our formal military honours system – a historic system that has honoured the bravery and dedication of our world-class Armed Forces since the 19th century.
HMS Ocean
The Times and The Sun report that British forces have taken command of a US naval operation as the Royal Navy's flagship HMS Ocean takes the place of USS Dwight Eisenhower off the coast of Iran. Comments by British Commodore Andrew Burns are carried that this is a "major step in cooperative maritime operations." 
Syria
The Times also looks at the issues aid services are facing in Aleppo. The paper writes that increased bombings are causing shortages of food as new supplies cannot get through. The FT separately reports on the numbers of militant fighters travelling to Syria from other countries such as Iraq, Iran and Lebanon.
Image of the Day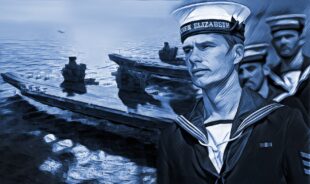 Follow us on Twitter and don't forget to sign up for email alerts.