Today's defence-related news includes the Prime Minister's speech to US Republicans, reporting on Lords Syria discussions, and the MOD's Equipment Plan.
Prime Minister's US Speech
There is coverage in the Financial Times, the Daily Telegraph, the Daily Mail, the Guardian, The Times, The Sun, and the Daily Mirror of the Prime Minister's speech, discussing relations with Russia, the importance of NATO and the campaign to defeat Daesh.
The Defence Secretary appeared on BBC Radio 4 Today this morning to reiterate the strength of the UK-US relationship.
Syria 
There is coverage in the Daily Telegraph, Guardian, The Times, and The Sun of the Foreign Secretary's discussion of Syria before the House of Lords International Relations committee.
MOD Annual Equipment Summary
The Financial Times reports on the MOD's Equipment Plan Annual Summary and the  National Audit Office's report on the Equipment Plan.
Minister for Defence Procurement Harriett Baldwin said:
"I welcome the NAO's report into the Department's Equipment Plan. SDSR 2015 announced a rising Defence budget and a ten-year £178 billion Equipment Plan which will deliver the best kit for our Armed Forces at the best value for the taxpayer. We are focused on maintaining an affordable programme and delivering the efficiencies we need to reinvest in cutting-edge ships, planes, versatile strike brigades, and greater cyber capabilities, so that our Armed Forces have the equipment they need to keep the UK safe and secure."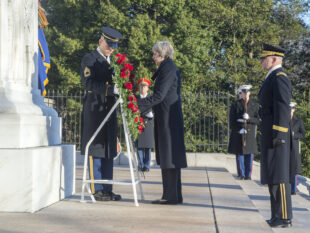 Follow us on Twitter, Linked in and Instagram and don't forget to sign up for email alerts.