Defence news today includes Defence Secretary Sir Michael Fallon's interview in The Herald and follow-up reports on Navy warships.
Nuclear deterrent
In an interview with The Herald, Defence Secretary Sir Michael Fallon has reiterated the Government's confidence in the Trident nuclear deterrent.
Navy warships
A variety of papers, including The Daily Telegraph, The Sun and The Independent, follow up on yesterday's story about noise made by the Navy's T45 ships.
An MOD spokesperson said:
An MOD spokesperson said:

Type 45 Destroyers are hugely capable ships designed for anti-air warfare, so underwater stealth is not a primary requirement. They have been deployed successfully on a range of operations worldwide and continue to make an enormous contribution to the defence of the UK and our international partners.
Defence spending
The Financial Times reports on the costs of the Ministry of Defence's equipment plan.
An MOD spokesperson said:
Britain's defence budget is the biggest in Europe and it is growing as we invest £178 billion as the UK steps up globally, with new ships, submarines and aircraft over the next decade.  Working together, Britain's Armed Forces are playing a key role.  By driving greater stability abroad and at home Britain will be safer and more secure.
IHAT
Today's papers continue to look ahead to the House of Commons Defence Committee's report on IHAT.
An MOD spokesperson said:
The government is legally obliged to investigate criminal allegations and the courts are clear that if IHAT did not exist, British troops could be dragged through international courts. We're committed to reducing IHAT's caseload to a small number of credible cases as quickly as possible.

We are determined to stop spurious legal claims against our troops and tackle the likes of Phil Shiner, who have abused our legal system. The Defence Secretary insisted that the MOD submit evidence on Shiner's actions due to the distress he caused to soldiers. That led to Shiner being struck off. Now we are taking steps to ensure this abuse cannot happen in the future.
Image of the day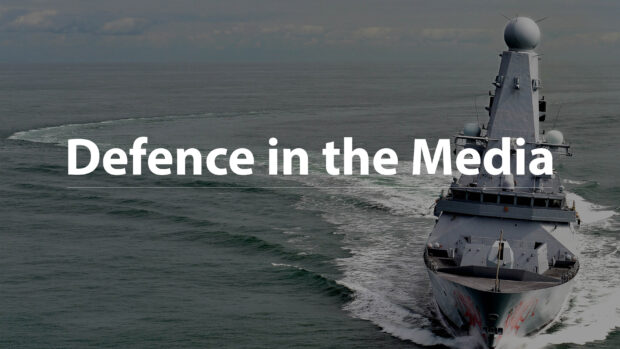 Follow us on Twitter and don't forget to sign up for email alerts.