Defence-related news today includes a £1.7bn upgrade to Scottish bases, British troops in Estonia, and the death of Royal Marine Owen Wilson.
  Defence Investment in Scotland
The Daily Record, Scotsman, Press and Journal and the Herald (p15) all report on the MOD's announcement that Scottish bases are to receive a £1.7bn upgrade. The Scotsman reports that the £1.3bn upgrade to the Faslane Naval Base has been announced as part of the arrival of UK's Trident nuclear deterrent. The Herald highlights that the investment will see the number of jobs in Faslane rise to 8,200 and see thousands of extra staff move into the area.
The papers reports that Lossiemouth is set to become one of the UK's three fast jet bases and that Leuchars station will be expanded to become a 'hub' for Army activity.
Defence Secretary Sir Michael Fallon said:
"Scotland is on the frontline of defending the United Kingdom from growing threats at sea, in the air, and on land. 

Our commitment to the future of defence in Scotland is underlined by increasing investment in better infrastructure for the Armed Forces helping to keep us safe."
5 Rifles in Estonia
The Scotsman reports that British troops have joined Estonia's Independence Day parade ahead of NATO's Enhanced Forward Presence deployment to the Baltic states.
Defence Secretary Sir Michael Fallon said:  
"Today's landmark in Estonia's history is an opportunity to celebrate our defence ties that stretch back over a century to when they gained independence.

Britain is playing a leading role in European security by deploying forces to Estonia, alongside our allies, to defend NATO.

Backed by a defence budget rising every year, our deployment will be defensive but fully combat capable, from armoured fighting vehicles to communications specialists who can deal with cyber threats."
Royal Marine Owen Wilson
The Daily Mirror and The Sun report on the inquest of the death of Royal Marine Owen Wason.
A Royal Navy spokesperson said:
"The thoughts and sympathies of the Naval Service go out to the family of Owen Wason at this sad time."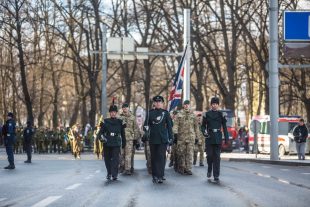 Follow us on Twitter, Linked in and Instagram and don't forget to sign up for email alerts.