A variety of Defence stories are covered in the media today, including follow up on Type 26, ration packs, and the A400M in New Zealand.
OPERATIONAL RATION PACKS
The Daily Record and Scotsman repeat a call from Labour MP Frank Fields to give the homeless unwanted Army rations.
Minister for Defence Procurement Harriett Baldwin said:
Out-of-date Operational Ration Packs (ORPs) are withdrawn from use and disposed of in line with current food safety legislation.
TYPE 26
The Sun and Daily Record follow up on The Sunday Times story on the Type 26 not being fitted with missiles for their Mk41 silos.The Sun also briefly mentions that the Wildcat is carrying 'World War II technology" after the MOD stripped its ability to beam back live enemy images. 
A Royal Naval spokesman said:
The Type 26 Frigate will be delivered with cutting edge weapons and sensors that build on the excellent operational record of the Type 23.

Backed by a rising defence budget and a £178 billion equipment plan, investment in the MK 41 launcher enables the Royal Navy the option of investing in a wide range of additional capabilities at short notice and according to the threat.
The Type 26 Global Combat Ship will be fitted with the Mk41 Vertical Launch Silo, providing options for development of Type 26 capability throughout its life.
Type 26 is planned to be a key component of the RN's fleet until at least 2060 and it makes sense to build a strike missile launcher into its design that enables a flexible choice of weapons throughout its service life. The Mk41 Vertical Launch silo provides the flexibility to field a variety of weapons, which may include the next generation of ship-launched strike weapons – including the Future Offensive Surface Weapon and the Next Generation Land Attack Weapon - being developed through the MOD's current ten-year, £178 billion equipment plan. The MOD continuously reviews the capabilities it requires and we have work in hand to examine current and future weapon choices for Type 26 over the coming years as her entry into service approaches.
TERROR ATTACKS
A number of papers follow up comments made in an interview with the Sunday Telegraph by the new independent reviewer of terrorism legislation, Max Hill, that the risk of terror attacks is at the highest level last since the 1970s, with fears about the imminent return of hundreds of British jihadis who have been fighting for Daesh in Syria.
IMAGE OF THE DAY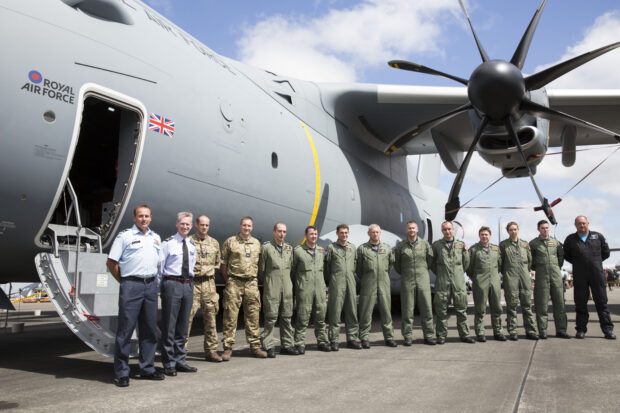 Follow us on Twitter, Linked in and Instagram and don't forget to sign up for email alerts.