Today's defence related news includes coverage of the campaign against Daesh and a new tech campus to be built on former MOD land. 
General Rupert Jones
The Daily Mail and The Daily Express report that Britain's top commander in the war against Daesh yesterday vowed to hunt and kill UK jihadists. Major General Rupert Jones said coalition forces were killing the militants 'at a rate they simply can't sustain' in the 'most deadly targeting campaign in history'. Speaking at a briefing in London ahead of a mission summit, he said the flow of foreign fighters to Iraq and Syria had been reduced to a 'trickle'.
Defence Secretary Sir Michael Fallon said:
As Iraqi forces push further into western Mosul, the RAF is playing a key role supporting them inside the city by taking out Daesh mortar teams and truck bombs.
You can read more about the campaign against Daesh here.
RAF uniforms
The Daily Mail continues coverage of RAF uniforms.
An RAF spokesperson said:
RAF uniform regulations are regularly reviewed. Changes to female dress for formal parades are under consideration, but no decision has yet been made.
Nuclear Submarine brochure
The Glasgow Herald and The Daily Record report the featuring of a nuclear submarine on the front cover of a brochure for newcomers to Argyle and Bute.
You can read more about MOD investment in HM Naval Base Clyde and Argyll and Bute here.
Dyson tech campus on former MOD land
The Daily Mail, Telegraph and Guardian report that Dyson will increase its UK geographical footprint by developing a campus on a former Ministry of Defence airfield in Hullavington.
The Prime Minister said:
This investment is a vote of confidence in our modern industrial strategy and our determination to cement the UK's position as a world leader in high-tech engineering.

Dyson's exporting strength and commitment to creating jobs in Britain is a real success story that demonstrates the opportunity that our plan to create a truly global Britain can present.
Image of the day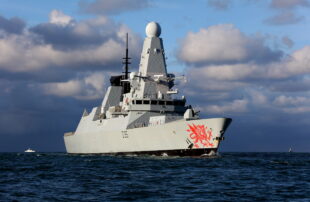 Follow us on Twitter, Linked in and Instagram and don't forget to sign up for email alerts.