A number of Defence stories feature in today's media, including preparations for the arrival of the Queen Elizabeth Class aircraft carriers at HMNB Portsmouth, and the last flight of the Lynx.
NEW JETTY AT HMNB PORTSMOUTH
BBC South and The Portsmouth News report on the preparations at HMNB Portsmouth for the arrival of the Queen Elizabeth Class aircraft carriers, and the economic benefits that the carriers are already having on Portsmouth's economy. The piece said that more than £100million of Government money has been spent readying the naval base for the arrival of the first carrier. Yesterday's docking at a new jetty by the USS Robert Peary was called an 'important milestone' in the readying of the base for the arrival of the first carrier this year. It was noted that as well as a huge new jetty being built, buildings have been upgraded and shipping channels dredged, all giving Portsmouth an economic boost. Chris Alcock of BAE Systems was interviewed, saying that all of Portsmouth will benefit from the new carriers, which are an amazing feat of engineering. Commodore Jeremy Rigby said that the base will have a much larger and skilled works force as a result of the carriers. Donna Jones, leader of Portsmouth City Council also said that they expected around 2000 jobs to be created over the next three years.
You can read more about the preparations at HMNB Portsmouth here.
LAST FLIGHT OF THE LYNX
A variety of papers report the final flight of the last Royal Navy Lynx helicopter in service. 'Flight 208' returned to its base at Yeovilton, Somerset, after nine months operating off the frigate HMS Portland. Outlets quote Commander Phil Richardson, Commanding Officer of 815 Naval Air Squadron, who said that the helicopter had "operated in every environment, from the oppressive mid-summer heat of the Gulf to the harsh conditions of the South Atlantic".
You can read more here.
LARIAM
In a long feature piece, The Herald reports on the continued use of Lariam.
An MOD spokesperson said:
The vast majority of deployed personnel already receive alternatives to Lariam and, where it is used, it is only prescribed after an individual risk assessment. 

But we have a duty to protect our personnel from Malaria and, as the last Defence Committee report concluded, in some cases, Lariam, will be the most effective way of doing that.

It continues to be recommended as safe by Public Health England and the World Health Organisation.
IMAGE OF THE DAY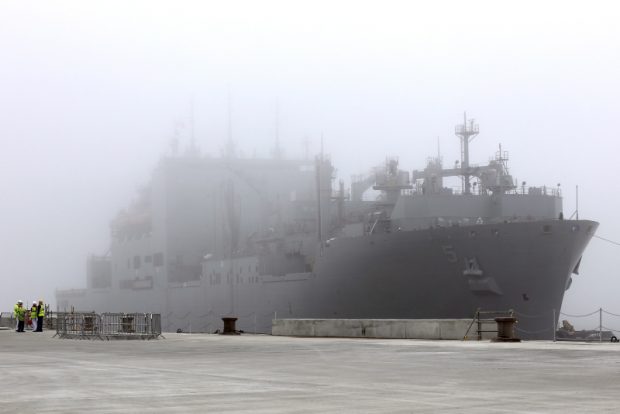 Follow us on Twitter, Linked in and Instagram and don't forget to sign up for email alerts.