Defence News today includes coverage of British troops due to deploy to Estonia, the F35 and Exercise Askari Storm.
ESTONIA
The Times, Daily Mail and The Sun report that the first British troops to deploy to Estonia as part of NATO's Enhance Forward Presence will leave this week. The soldiers from 5th Battalion, The Rifles, are the "first wave" of a total of 800 British troops that will be stationed in the country.
An MOD spokesperson said:
The security of UK personnel serving with NATO in Estonia and Poland is of paramount importance. We don't discuss our security measures.
F35
The Daily Express writes about a Pentagon report on the F35.
An MOD spokesperson said:
 We are committed to the F-35 programme, which remains on time and within costs, and believe it offers the best capability for our Armed Forces.
EXERCISE ASKARI STORM
The Sun, The Scotsman, The Herald and Daily Star all feature the story of Fusilier Sean Wiseman who has taken part in his first overseas deployment on Exercise Askari Storm in Kenya since he lost his leg in Afghanistan six years ago. His determination to overcome his injury and pride in his achievements were recognised by the medical board which found him fit to deploy with his unit.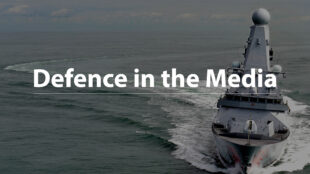 Follow us on Twitter, Linked in and Instagram and don't forget to sign up for email alerts.