Today's defence news includes the resentencing of Alexander Blackman, the publication of the Armed Forces' pay review and the reopening of the National Army Museum.
Alexander Blackman
There is widespread coverage of Alexander Blackman's sentence being reduced and that his dismissal has been upheld, but his dismissal with disgrace has been lifted. Articles are included in The Daily Mail, The Telegraph, The Daily Express, The Times and The Guardian.
An MOD spokesperson said:
We have fully co-operated with each stage of Sergeant Blackman's case, which has now involved a criminal investigation, a court martial and the appeal process, and will continue to provide personal support to the family, as we have done since charges were first brought. We respect the court's decision and it would be inappropriate for us to comment further on it.
Army pay
Following the publication of the Armed Forces' pay review, The Daily Mail and the Sun both report that soldiers have been handed a 1 percent pay increase.
An MOD spokesperson said:
A career in the Armed Forces provides rewarding experiences that aren't available anywhere else. This pay increase was recommended by an independent body and we remain unwavering in our commitment to our people, providing pensions they don't have to pay into, subsidised accommodation and, through our Covenant, businesses are offering fairer mortgage, broadband and mobile phone deals.
National Army Museum
The Guardian and the Telegraph both report on the reopening of the National Army Museum in Chelsea, which has been closed for three years for a refurbishment. It is noted that the Duke of Wellington's cloak, Napoleon's horse, Lawrence of Arabia's robes, the cloak worn by the man who carried the order to the front for the charge of the Light Brigade and a twisted piece of shrapnel from an encounter 11 years ago in Helmand province in Afghanistan will all be exhibited at the museum.
IMAGE OF THE DAY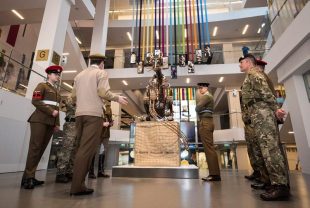 Follow us on Twitter, Linked in and Instagram and don't forget to sign up for email alerts.