Today's defence news includes a Taliban attack on an Afghan Army base and a Sunday Times feature on women in close combat.
Mazar-e Sharif Taliban Attack
There is further coverage of the Taliban attack on an Afghan Army base in Mazar-e Sharif on Friday with up to 150 soldiers feared killed. Attackers dressed in Army uniforms targeted soldiers leaving Friday prayers in the base mosque and in a dining hall, using explosives and heavy machine guns.
Women in close combat
The Sunday Times Magazine features case studies of three female personnel who have all served on the front line on their experiences. Lieutenant Natalie Grainger, a Merlin pilot with the Commando Helicopter Force, Flight Sergeant Liz McConaghy, a Chinook loadmaster, and Corporal Amy Ellis, a combat medical technician all speak positively of their experiences on operations.
Image of the Day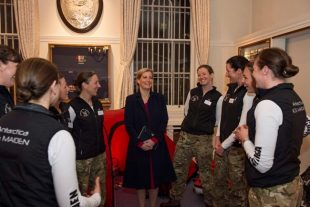 Follow us on Twitter, Linked in and Instagram and don't forget to sign up for email alerts.