Today's defence-related news includes the coroner's report into the death of two soldiers at Castlemartin Ranges, and Sweden and Finland joining the UK-led Joint Expeditionary Force.
Coroner's inquest
The Daily Express, The Sun, The Daily Mirror and The Herald report on the opening of the coroner's inquest into the deaths of Corporals Matthew Hatfield and Darren Neilson, who both died as a result of injuries they sustained at an incident at Castlemartin Ranges.
A Ministry of Defence spokesperson said:

The circumstances surrounding the incident at Castlemartin ranges on 14th June 17 is subject to an on-going investigation by Dyfed-Powys Police and the Health and Safety Executive. A separate Defence Safety Authority Service Inquiry has been convened which will run in parallel. It would be inappropriate to comment further at this stage.
The Joint Expeditionary Force
The Herald and the Washington Post report that Sweden and Finland have joined the  British-led high-readiness force tasked with tackling threats and responding to crises around the world, known as the Joint Expeditionary Force (JEF).
Defence Secretary Sir Michael Fallon said:
In an uncertain world, the UK is spearheading this high-readiness joint force, which will help us tackle growing threats. Together, we pack a more powerful punch.

This is a Force of Friends, and alongside Sweden, Finland, and our other partners in this force, we remain committed to security, in Europe and around the world.
More information about this story can be found here.
Syria
The Daily Record reports that the SNP's Defence spokesman Stewart McDonald has put an Early Day Motion for a debate and vote about British military action in Syria.
A Government Spokesperson said:
As the Defence Secretary said this week, we haven't been asked to be involved in any strikes on the Assad regime, so the question is hypothetical. But we are clear we would support appropriate US action to prevent further chemical weapons attacks against the Syrian people.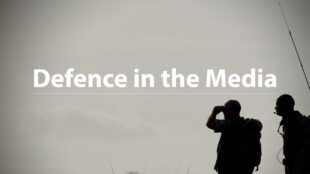 Follow us on Twitter, Linked in and Instagram and don't forget to sign up for email alerts.