This morning's defence related news includes further coverage around the aftermath of fighting against Daesh in Mosul as well as a report into Op Sophia. The U.S. Air Force Thunderbirds have also flown over several bases and landmarks in Scotland in preparation for the 2017 Royal International Air Tattoo.
Fight against Daesh
There is widespread national print and broadcast coverage focusing on the aftermath of fighting against Daesh in Mosul, noting the progress made by the US-led Coalition and Iraqi forces and the toll it has taken on civilians and infrastructure.
In an interview on BBC Radio 4 Today programme this morning, General Rupert Jones described the targeting process used by the coalition as highly sophisticated. He added that the loss of Mosul was a devastating blow to Daesh but the war was not yet over and required patience from the international community as the process continued.
Defence Secretary Sir Michael Fallon said:
 I congratulate Prime Minister Abadi, and the Iraqi forces who have been fighting on the ground with great bravery and care against a brutal opponent. Daesh has total disregard for innocent civilian life and we should welcome their defeat in a city that was ground zero for their so-called caliphate.

Britain has played a leading role in the Coalition that has helped bring about the removal of the death cult from Mosul.

The RAF has struck more than 750 targets as part of the campaign to liberate Mosul - second only to the United States. While these pin point strikes have brought an end to Daesh in the city, there is still more to do. This barbaric group remains dug in west of the Euphrates and clearing operations in and around Mosul will be needed because of the threat from improvised explosive devices.
Op Sophia
National print coverage of a report published by the EU External Affairs Sub-Committee into Operation Sophia, the EU naval mission to combat people smuggling in the central Mediterranean.
A UK government spokesperson said:
Operation Sophia and the UK's contribution to it is saving lives and helping to disrupt the activities of smugglers who continue to exploit migrants trying to reach Europe. UK ships mean fewer children drowning and dangerous smuggling boats destroyed before they can be reused. The operation is part of the UK government's wider approach to tackling irregular migration at source.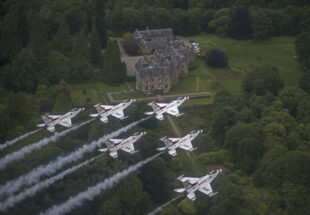 Follow us on Twitter, Linked in and Instagram and don't forget to sign up for email alerts.