Today's defence-related news includes a Times investigation on the F-35 programme and coverage of UK training of the Ukranian Armed forces.
F-35 programme
The Times' investigation, also covered by The Sun, Sky News, Press Association and The Telegraph, reported on the cost of each aircraft, which the American manufacturer Lockheed Martin estimated will between £77 million and £100 million each. The Times report speculates that the cost to the taxpayer will exceed the estimated figure.
Wing Commander Jim Beck, one of the UK's most experienced F-35 pilots and soon to take over the role of Lightning Programme Manager, said:
The F-35 is the best aircraft I've ever flown. It is the most advanced multi-role fighter jet out there and the aircraft most suited to the UK's needs. With huge flexibility and cutting-edge innovation, this supersonic, stealth aircraft will bring about a generation change in the way we fight in the Combat Air arena for many decades to come.
An MOD spokesperson said:
The F-35B Lightning II aircraft is the world's most advanced fighter jet. Whether operating from land or with the Queen Elizabeth Class aircraft carriers as a central component of the UK's Carrier strike capability, they will ensure a formidable fighting force. We are committed to the F-35 programme, which is on time, within costs and offers the best capability for our Armed Forces.
You can read more about the F-35 programme here.
UK training of Ukrainian Armed Forces
The Sun and The Daily Mirror both report on the extension of UK training of the Ukranian Armed Forces, providing Ukrainian personnel with enhanced skills to protect themselves against threats such as attacks from snipers, armoured vehicles and mortars.
Defence Secretary Sir Michael Fallon said:
We continue to stand side by side with our Ukrainian friends in the face of Russian belligerence and aggression. This training, defensive in nature, will help protect Ukrainian troops against the threats that they face on a daily basis. By stepping up our training programmes we are sending a clear message that we support the people of Ukraine and are firmly committed to its sovereignty, independence and territorial integrity.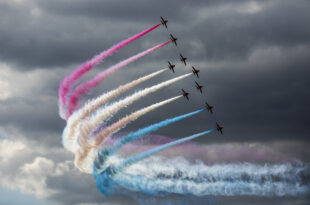 Follow us on Twitter, Linked in and Instagram and don't forget to sign up for email alerts.