Defence news today includes further coverage of events to mark the Centenary of the 3rd Battle of Ypres (Passchendaele), and reporting on the dredging of Portsmouth Harbour ahead of the arrival HMS Queen Elizabeth.
Passchendaele
There is widespread coverage in today's print of events to mark 100 years of the 3rd Battle of Ypres (Passchendaele), including in The Times, The Sun, The Telegraph, Daily Mirror, Daily Express and The Independent. This follows broadcast coverage of the commemorations throughout yesterday, including on BBC News and Sky News.
Defence Secretary Sir Michael Fallon said:
These services provide us with the time to reflect on the sacrifice not just of the thousands of British and Commonwealth troops who gave their lives, but of the men on all sides who did not return home. This was a battle which touched communities across Europe and it is a privilege to be here in Belgium to stand as friends with the representatives of all the countries who took part in the Battle – friends who continue to be strong allies.
Read more about the commemoration events here.
Portsmouth Harbour dredging
BBC R4 Today and Portsmouth News report on the dredging of Portsmouth Harbour ahead of the arrival of new aircraft carrier HMS Queen Elizabeth. Coverage notes the array of artefacts found, including large bombs and cannons.
Defence Minister Harriett Baldwin said:
Upgrading the future home of HMS Queen Elizabeth is another completed step in the carrier's journey to becoming the nation's flagship, ready to operate around the world and help keep us safe in a world of intensifying threats.

The work to prepare for our naval future has unearthed objects from our naval past which are part of Portsmouth's proud maritime history. More than £100 million has been invested in Portsmouth's naval base to ensure that it is ready for the state of the art Queen Elizabeth class aircraft carriers.
Read more on this here.
Royal Marine sentencing
There is widespread coverage in today's papers of the sentencing of former Royal Marine Ciaran Maxwell.
An MOD spokesperson said:
We expect the highest standards from our armed forces personnel, and any breaches of these standards are dealt with seriously. Ciaran Maxwell has already been discharged from the Royal Marines and is no longer a serving member of the armed forces.
Image of the Day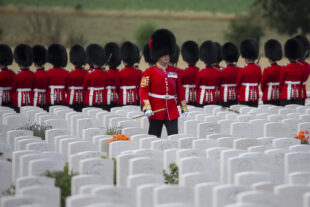 Follow us on Twitter, Linked in and Instagram and don't forget to sign up for email alerts.