Today's defence related news includes coverage of Army cadets who faced unexpected inclement weather in the Mourne Mountains in Northern Ireland and reporting on Prince Philip's final official engagement.
Army Cadets
The Daily Express, Daily Mirror, The Herald, Daily Star and The Independent reported on yesterday's rescue of a troop of Army cadets who were caught in difficult weather conditions in Northern Ireland.
An MOD spokesperson said:
We can confirm that all Army cadets caught in today's inclement weather on the Mourne Mountains are safe and accounted for.
Prince Philip attends Royal Marines parade
There has been widespread coverage of Prince Philip's final official engagement by national outlets including BBC News, The Guardian, The Telegraph and Sky News. The Duke of Edinburgh met Royal Marines personnel at a parade marking the finale of the 1664 Global Challenge, a series of endurance events undertaken to raise awareness and funds for the Royal Marines Charity. During the event, Prince Philip, who was first appointed Captain General of the Royal Marines in 1953, was given the Royal Salute and received the 1664 Global Challenge Baton. The parade concluded with a march past and three cheers for the Captain General.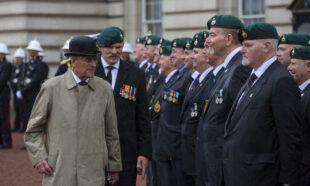 Follow us on Twitter, Linked in and Instagram and don't forget to sign up for email alerts.