Today's defence related news includes coverage of HMS Queen Elizabeth taking part in exercises alongside USS George HW Bush, and reporting on Irwin Mitchell's statement on care for an injured veteran.
Exercise Saxon Warrior
The Daily Telegraph, The Times, The Sun, The Daily Star, The Scotsman, Mail Online, The Metro, The News, Portsmouth and The Evening Standard report on HMS Queen Elizabeth and Exercise Saxon Warrior. The maritime exercise focuses on how the UK and US work together during a number of challenging scenarios around the UK coastline, and will also be key to ensuring UK personnel are fully equipped ahead of the arrival of the Royal Navy's new Queen Elizabeth-class aircraft carrier.
Captain Jerry Kyd, HMS Queen Elizabeth's Commanding Officer, said:
The USS George HW Bush battle group is an awesome embodiment of maritime power projection.

And given that the United Kingdom's Carrier Strike Group Commander and his staff are embedded on board, the US carrier for Saxon Warrior shows the closeness of our relationship with the US Navy and the importance that both nations place on the delivery of the UK's Carrier Strike programme.

HMS Queen Elizabeth is at the start of her journey to generate to full warfighting capability, but we are working hard to ready ourselves to take our place in operations and the line of battle alongside our closest allies.
You can read more about Exercise Saxon Warrior here.
Care for injured veterans
The Sun, Mail Online, The Evening Standard, and ITV Yorkshire report on statements made by lawyers Irwin Mitchell on care provided to a veteran injured in Afghanistan.
An MOD spokesperson said:
We work closely with Veterans and Service Personnel to ensure they receive the appropriate level of care. We are developing a new initiative with the NHS to provide patient-centred support.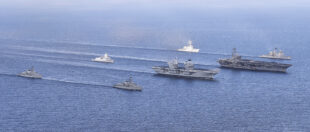 Follow us on Twitter, Linked in and Instagram and don't forget to sign up for email alerts.