Today's defence-related news includes coverage of the UK campaign against Daesh, a correction printed in the Daily Telegraph regarding HMS Ocean, and speculation over possible future inquiries by the Iraq Fatalities Investigations unit.
UK campaign against Daesh
Following the Defence Secretary's visit to the Middle East where he met British personnel serving in Iraq and announced the Operation Shader medal to recognise the contributions made by military personnel in the Coalition fight against Daesh, there is coverage of the UK Coalition effort in The Glasgow Herald, Press and Journal, and Daily Mirror.
Defence Secretary, Sir Michael Fallon, said:
It is only right that those who've performed above and beyond in this fight against the evil of our time get the recognition they deserve. This medal will do just that.

Our troops have made huge contributions to the fight against Daesh, helping end its tyranny in large parts of Iraq and Syria.

They have conducted over 1,500 strikes against Daesh terrorist targets and helped train nearly 60,000 Iraqi Security Forces. The campaign is not over but for those that have served we rightly honour the critical role they have played in helping keep us safe.
Correction on HMS Ocean
In an article last Friday, the Daily Telegraph incorrectly claimed that HMS Ocean suffered engine problems when it was sent to the Caribbean as part of the Hurricane Irma aid effort and that it was delayed by a week. A correction has been issued in today's Daily Telegraph noting that 'HMS Ocean left Gibraltar on time as planned and has not suffered engine problems'.
Iraq Fatalities Investigations
There is speculation in The Telegraph that three service personnel may potentially face non-criminal investigation by the Iraq Fatality Investigations (IFI) unit, with further coverage in The Times, Daily Mail and The Sun.
An MOD spokesperson said:
Our military served with great courage and professionalism in Iraq and we proudly hold them to the highest standards. We have a legal responsibility to make sure that credible allegations of serious criminal behaviour by UK forces are properly investigated.

The High Court ordered the establishment of the Iraq Fatality Investigations process, a non-criminal investigation looking at circumstances of deaths and making recommendations.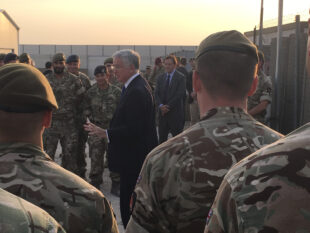 Follow us on Twitter, Linked in and Instagram and don't forget to sign up for email alerts.