Today's defence related news includes coverage of the Prime Minister visiting UK, French and Estonian troops deployed as part of NATO's enhanced Forward Presence, reporting of reliability issues with Foxhound armoured vehicles in Iraq and the departure of Defence Equipment and Support's CEO Tony Douglas.

Prime Minister visits UK troops in Estonia
On a visit to Estonia for a meeting of EU leaders, the Prime Minister addressed British, French and Estonian troops deployed as part of the UK-led NATO Battlegroup in the country. Her speech was broadcast on BBC Breakfast and Sky Sunrise bulletins and was trailed in The Times, Telegraph (online), Sun and Independent. 
Prime Minister Theresa May said:
NATO remains the bedrock of our collective security, and there is no clearer demonstration of the UK's unconditional commitment to Europe's defence than the 800 British troops now in Tapa, leading a NATO battlegroup and standing shoulder to shoulder with their Estonian, French and soon their Danish counterparts too.

We will continue to work with our NATO allies, our European neighbours and the EU, to support a future partnership of unprecedented breadth and depth, that will guarantee the security and stability of the continent for generations to come.
Foxhound
The BBC and Sun both report comments from an Army sergeant that Foxhound armoured vehicles being used in Iraq break down in hot weather. The comments were made during a recent visit by the Defence Secretary to the UK training team at Taji, where he announced the award of an Operation Shader medal. The story has been picked up by a number of online outlets including Mail Online and Telegraph Online.
A Ministry of Defence spokesperson said:
Foxhound has dealt with the demanding conditions in Iraq, kept our soldiers safe and is delivering the required operational output in the defeat of Daesh.

The Urgent Operational Requirement programme saved countless soldiers' lives on operations in Afghanistan and Iraq and decisions on which equipment to continue to support and which to sell are made with current and future operational requirements in mind.
Defence Equipment and Support
The departure of Tony Douglas from DE&S is covered in The Times and Financial Times, with Deborah Haynes in The Times linking his move to a £20 million shortfall in the defence budget.
Defence Secretary Sir Michael Fallon said:
I am very grateful for the help and support Tony has provided to me personally and I have been very impressed by the significant progress he has achieved in his time with the MOD, we will be sorry to lose him.

He is responding to an unexpected opportunity in the private sector which he has decided to pursue and I would not want to stand in his way from taking on that fresh challenge.

I am confident that the momentum he has generated will be maintained by his executive team and, in due course, his successor ensuring that DE&S continues to deliver using the foundations he has put into place.
Image of the day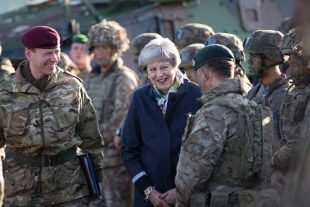 Follow us on Twitter, Linked in and Instagram and don't forget to sign up for email alerts.