Today's defence news is dominated by forty-eight Royal Navy sailors taking their places in history at today's Changing of the Guard ceremony outside Buckingham Palace.

ROYAL NAVY MAKE HISTORY IN CHANGING OF THE GUARD CEREMONY
Many outlets, including the BBC, the Evening Standard and The Telegraph,  report that forty-eight sailors from across the Royal Navy have taken their places in history on the forecourt of Her Majesty the Queen's London residence, Buckingham Palace. It is the first time in more than 400 years that Sailors have replaced Soldiers at the Palace.
Representing many branches of the Royal Navy, the Senior Service's traditional navy blue uniforms have replaced the distinctive red tunics worn by the Foot Guards. Starting at Buckingham Palace today in full show of the general public, they are also set to Mount Royal Guards at Windsor Castle, The Tower of London and St James's Palace over the next few weeks.
Lieutenant Commander Steve Elliot said:
The last time the Navy had an operational role guarding the Queen was with Elizabeth the first, when Sir Walter Raleigh was appointed Captain of the Queen's Guard in 1587. So it goes back a little while. I've got a great team, who have put in long hours, to make this all come together. I'm very proud of my Sailors today and they can be justifiably proud of themselves.
Read more here.
DEFENCE BUDGET
There is further speculation in the likes of The Sun, Sunday Express and The Independent on defence spending in the light of the National Security Capability Review.
An MOD spokesperson said:
We have the biggest defence budget in Europe and are one of very few countries to not only meet but exceed NATO's 2% spending target. In the face of intensifying threats, we are contributing to the cross-government review of national security capabilities and looking at how we best spend the rising defence budget to protect our country. No decisions have been made and any discussion of the options is pure speculation.
IMAGE OF THE DAY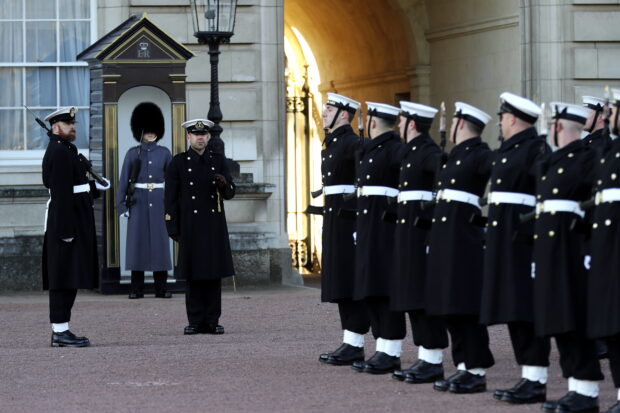 Follow us on Twitter, Linked in and Instagram and don't forget to sign up for email alerts.