Today's defence-related media coverage includes news on the Defence Secretary's first Defence Oral Questions in the House of Commons 
Defence Oral Questions  
There is widespread coverage of yesterday's Defence Oral Questions in the House of Commons, when the Defence Secretary and Defence Ministers answered questions from MPs on a range of issues, including NATO, current operations and cyber security.  
Articles feature in the Express, Daily Mail, Aberdeen Press and Journal, Telegraph, Guardian, Independent, the Sun, the Times, BBC News and the Mirror. Most outlets focus on the ongoing debate around defence spending, with the Daily Telegraph leading on the Defence Secretary's comments that spending 2% of GDP should be a base rather than a ceiling. 
An MOD spokesperson said: 
We have the biggest defence budget in Europe and are one of very few countries to not only meet but exceed NATO's 2% spending target. In the face of intensifying threats, we are contributing to the cross-government review of national security capabilities and looking at how we best spend the rising defence budget to protect our country. No decisions have been made and any discussion of the options is pure speculation.
Ongoing court martial of Royal Marines 
Several outlets, including the Daily Mail, the Sun and the Daily Telegraph report on the ongoing Court Martial of two members of 43 Commando on charges of ill-treatment of a subordinate.  
A Royal Navy spokesperson said: 
We can confirm that Cpl Philip Beer and Cpl Danny Foster will appear for trial at Portsmouth Military Court Centre on 27 Nov charged with a total of four charges of 'Ill-treatment of a subordinate'. While legal proceedings continue it would be inappropriate to comment further.
Image of the day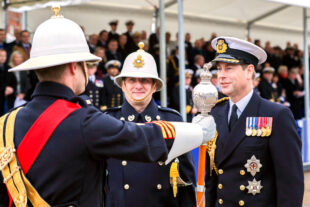 Follow us on Twitter, Linked in and Instagram and don't forget to sign up for email alerts.