Defence news today includes further reporting on the Royal Navy, and coverage of Prince Harry's appointment as Captain General Royal Marines.
Royal Navy ships
There is reporting today in The Times, Daily Mirror and Daily Record on the number of Royal Navy ships deployed overseas over the Christmas period.
A Royal Navy spokesperson said:
The Royal Navy is deployed globally on operations and will be protecting our national interests throughout Christmas and New Year. There will be 13 ships and submarines deployed away and in home waters, as well as the at sea nuclear deterrent.
HMS Queen Elizabeth
There is further reporting in the media today on the stern seal issue with HMS Queen Elizabeth, which is being repaired while the ship is alongside in Portsmouth.
A Royal Navy spokesperson said:
This is the biggest ship in our history, and sea trials are precisely for finding manageable teething problems like this and rectifying them. Repairs under contract are already underway alongside in Portsmouth and the sea trials will take place as planned in the New Year, when we will continue to rigorously test the ship before she enters service.
Prince Harry Royal Marines role
There is various coverage today of the appointment of HRH Prince Harry as Captain General Royal Marines. It was announced yesterday that he would succeed HRH the Duke of Edinburgh in the role. The Duke's final official duty as Captain General was to receive Major General Robert Magowan, Commandant General Royal Marines, and Major General Charles Stickland, Commandant General Designate, at Buckingham Palace.
Image of the Day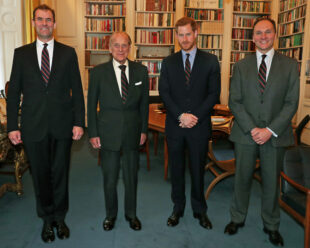 Follow us on Twitter, Linked in and Instagram and don't forget to sign up for email alerts.