Today's defence-related news includes coverage of the UK is ramping up efforts to stop animals being hunted in Malawi and the Prime Minister's speech on defence and security issues in Munich.
Counter-poaching in Malawi
A variety of newspapers report that Defence Secretary Gavin Williamson has announced the UK is ramping up efforts to stop animals being hunted in Malawi by expanding counter-poaching training into two further parks in the country. Articles are carried in The Times, The Sun, Daily Mirror, Daily Express, Daily Record, Press & Journal and The Scotsman, and it was also covered on BBC Breakfast this morning.
Defence Secretary Gavin Williamson said:
Poaching is a horrific and cruel trade that is putting the very existence of this planet's most majestic wildlife in jeopardy.

Our brave Armed Forces are the best in the world and are playing their part in putting an end to this sickening and illegal industry, to protect these magnificent mammals.

By providing training and mentoring to the park rangers, they will form a skilled network to ensure that the world's precious species are here for generations to come.
For more information on this story read here.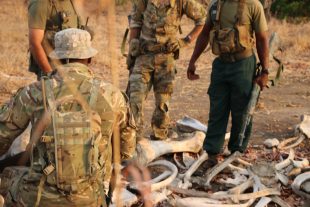 The Ministry of Defence is ramping up its efforts to stop animals being cruelly hunted in Malawi. Crown copyright.
Follow us on Twitter, Linked in and Instagram and don't forget to sign up for email alerts.