Today's defence news includes the Defence Secretary in Estonia, a revolutionary method to produce titanium and UK involvement in the Galileo satellite programme.

Defence Secretary visits UK troops in Estonia
The Defence Secretary is on a two day visit to Estonia, where he met with some of the 800 British troops from the Royal Welsh who lead the NATO enhanced Forward Presence battlegroup. A press conference this morning with his Estonian opposite number was broadcast by Sky News and reported online, particularly his comments on Russia following the poisoning of a former Russian spy in Salisbury using a military-grade nerve agent.
Defence Secretary Gavin Williamson said:
The world's patience is wearing thin with President Putin and his actions. Right across the NATO alliance, right across the European Union, nations have stood up in support of the United Kingdom.
Porton Down scientists on brink of titanium revolution
There is widespread coverage of the news that scientists at the Defence Science and Technology Laboratory (Dstl) in Porton Down has revolutionised the production of titanium by reducing the 40 stage process down to just two steps and potentially halving the cost. The Sun, Daily Telegraph, Times, Scotsman and Independent all report on the development and that titanium is used in a range of equipment from fighter jets to prosthetic limbs.
Defence Secretary Gavin Williamson said:
Our Armed Forces use titanium in everything from cutting-edge nuclear submarines and fighter jets through to life-changing replacement limbs - but production time and costs mean we haven't always used it. This ground-breaking method is not only faster and cheaper but could see a huge expansion of titanium parts and equipment throughout the military. It is a clear example of how our world-class scientists are working behind the scenes to help our Armed Forces as well as bringing prosperity and security to Britain.
Galileo satellite programme
The Financial Times splashes with claims that the EU plans to block UK companies from tendering for contracts on the Galileo Satellite programme, linking to fears that this will affect the UK's thriving satellite sector, and that the Prime Minister is leading last-ditch efforts to stop an 'outrageous' EU move to freeze Britain out of the €10bn project. The article claims that the Armed Forces would be cut off from the programme should Britain be excluded and adds that the MOD is having 'early discussions' on whether the UK could launch its own satellite system to break dependence on the US system and Galileo. The Defence Secretary is said to be working with the Prime Minister, Business Secretary, DexEU secretary and Chancellor to 'rescue' the situation.
Picture of the day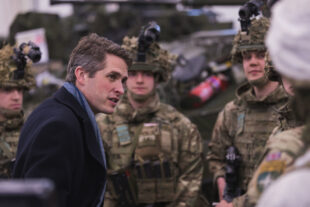 Follow us on Twitter, Linked in and Instagram and don't forget to sign up for email alerts.