Defence news today includes reporting that Royal Navy ship HMS St Albans has escorted a Russian warship through the English Channel and Dover Strait.
Royal Navy
There is online reporting, including by The Sun, Daily Mirror, Daily Express and Daily Star, that Royal Navy frigate HMS St Albans has escorted a Russian warship through the English Channel and Dover Strait. The Portsmouth-based Type 23 frigate was activated earlier this week to keep watch on the Russian Neustrashimyy-class frigate Yaroslav Mudry.
Commander John Cromie, the Commanding Officer of HMS St Albans, said:
As the Royal Navy's high readiness unit in UK waters, we are the first responders to any potential incursion into UK waters and are highly trained in this role.

Our activation today in response to the passage of a Russian warship close to the UK resulted in a cordial interaction between professional sailors based on the recognised conventions at sea.

We are always standing ready, as is the rest of the fleet, to defend UK waters and UK sovereignty 24 hours a day, 365 days a year.
Salisbury
There is further reporting today on the continuing clean-up in Salisbury, where military experts are assisting in nine sites. Articles are included in The Times, The Sun and The Independent.
Defence Secretary Gavin Williamson said:
The work of our Armed Forces and defence scientists in the wake of the reckless attack in Salisbury has been vital, whether it's the military assisting the police or Porton Down identifying the chemical nerve agent.

Our troops will now play another important role in the clean-up of potentially contaminated sites in Salisbury, making sure the local community is kept safe. The expertise, equipment and people we have are crucial to help make sure any risk to the public is removed entirely.

I would again like to pay tribute to their professionalism and skill, which has been at the heart of the investigation into this atrocity.
Read more on this here.
Airbases
The Times today reports that the All Party Parliamentary Group on general aviation has written to the Defence Secretary about its concerns over the sale of airbases under the Better Defence Estate Strategy.
An MOD spokesperson said:
A Defence minister will be pleased to meet with the Parliamentary group. Around £300 million investment has recently been announced into key RAF sites across the UK.

Where airfields are no longer required and we will work closely with potential buyers and the local council to make sure that the sites' future use best meets the needs of the local economy, including providing thousands of much-needed new housing or their potential for use as civilian airfields.
Image of the Day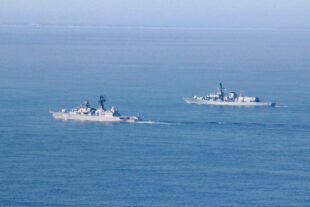 Follow us on Twitter, Linked in and Instagram and don't forget to sign up for email alerts.