Defence news today includes Defence Secretary Gavin Williamson's announcement that the Ministry of Defence is investing £2.5 billion in Britain's submarine building projects.
Submarine investment
There is widespread coverage today that Defence Secretary Gavin Williamson has announced the MOD is investing a massive £2.5 billion in boosting Britain's submarine building projects. Speaking at BAE Systems' shipyard in Barrow-in-Furness Cumbria, he announced £960 million worth of contracts have been signed to ramp up the next phase of construction for the UK's four nuclear-armed Dreadnought submarines. The Defence Secretary also announced that the MOD has signed a £1.5 billion contract to build a seventh Astute hunter-killer submarine for the Royal Navy, before revealing that the attack boat will be called Agincourt.
Articles are reported by The Sun, Financial Times, BBC News, The Scotsman, Daily Mirror, The Guardian, Daily Telegraph, The Independent, The Times and The Herald.
Defence Secretary Gavin Williamson said:
This multi-billion-pound investment in our nuclear submarines shows our unwavering commitment to keeping the UK safe and secure from intensifying threats. Agincourt will complete the Royal Navy's seven-strong fleet of hunter-killer attack subs, the most powerful to ever enter British service, whilst our nuclear deterrent is the ultimate defence against the most extreme dangers we could possibly face.

Not only is this a massive boost for our armed forces, but it's huge for Barrow, the heart of sub-building in this country. Today's news supports 8,000 BAE Systems' submarine jobs, as well as thousands more in the supply chain, protecting prosperity and providing opportunity right across the country.
Read more on this announcement here.
Leigh Day
The Sun on its front page today reports that lawyers Leigh Day intend to bring hundreds of civil claims against the MOD for alleged abuses by British troops in Iraq.
An MOD spokesperson said:
Leigh Day brought claims on an industrial scale and have been ordered by the High Court to confirm how many cases they will take forward.

While valid claims should always be compensated, false or exaggerated allegations make it harder for justice to be served. Defending false claims comes with a high human and financial cost, so we urge Leigh Day to ensure only genuine cases are pursued.
Image of the Day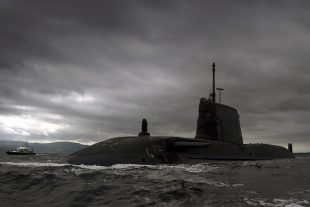 Follow us on Twitter, Linked in and Instagram and don't forget to sign up for email alerts.