Seventy-five years after the Dambusters' world-famous raid, 617 Squadron are back in the air.
This year the modern Squadron will be taking to the skies from RAF Marham in F-35 Lighting combat aircraft, and later from the decks of the HMS Queen Elizabeth Class Carriers.
After more than a year's training in America, 617 Squadron will soon be landing at their new Norfolk home.
As well as sharing an iconic insignia, can today's Squadron have much in common with their legendary Second World War counterparts?
After all, consider the most obvious difference, that of the aircraft, then and now. Three quarters of a century of aeronautical design and technological advance mean that while the latter-day Lancaster bombers rumbled up the Ruhr valley at a steady 220 mph to deliver their bouncing bombs, today's Lightning pilots can easily achieve 5 times that speed and deliver precision weaponry that their forebears simply couldn't have imagined in their wildest dreams.
Nevertheless, if you ask today's 617 Squadron's Commanding Officer, Wing Commander John Butcher that question, he will leave you in no doubt that there is a real link between the Lightning Force Squadron, and the Dambusters.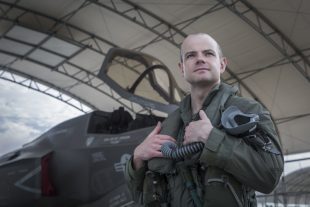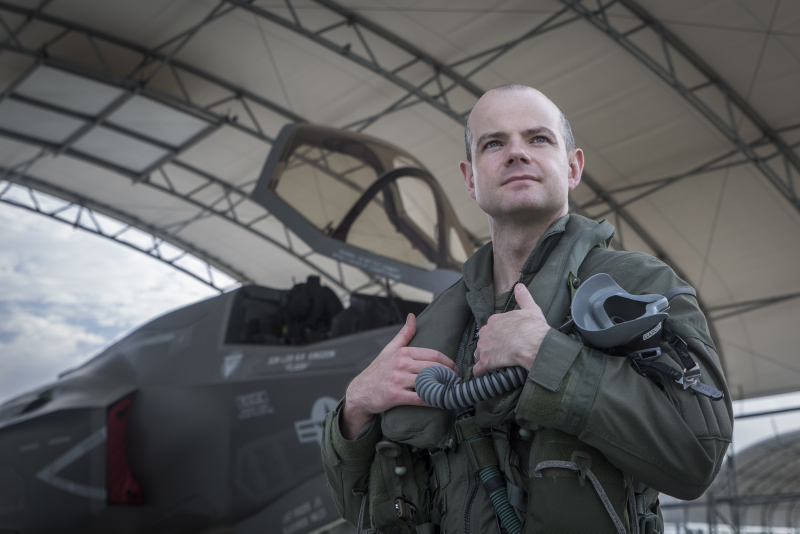 When I reflect back to the original Squadron, they were formed for a specific purpose. To achieve that purpose scientists, engineers, ground and aircrew and people from industry came together to design and effectively deploy an innovative new weapon against a particular target.

It is very similar to our situation today except that in our case we must prepare for a wider variety of tasking and understand a much wider scope of technology to launch our combat air missions from land or sea.

The Dambusters aircrew did not know what their mission was going to be until the last moment. Yet they had to make sure they were ready and that is just as true for us today. 617 has been reformed to fly the Lightning. The range of missions we can undertake in this aircraft is huge. We have to make sure we are ready to do whatever is asked of us.
Yes, the Dambusters had just eight weeks to cram in all their mission training, while today's personnel have had more than 12 months training in America. But the context of course is very different.
In 1943 the pilots practiced flying Lancasters, aircraft with which they were familiar, over British reservoirs to deploy a specialised weapon to achieve the destruction of three giant German dams.

The difference today is, as Wing Commander Butcher explains, the level of complexity involved.

We have had to understand the capabilities of a brand-new aircraft, bristling with cutting edge technology,
he says.
The range and nature of the missions we might face are also very different to that flown by the original Dambusters.

We have to be able to deliver astonishing air power whenever, and wherever it's directed around the world.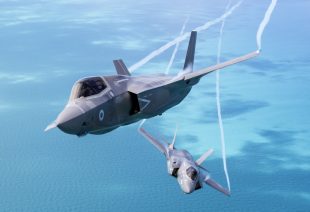 But Wing Commander Butcher feels that his famous predecessor would probably not be phased by today's set up, saying,
If I could show Wing Commander Guy Gibson around the F-35B Lightning and introduce him to the Squadron, I hope he would feel the same spirit and determination that he created in his team in 1943.
So surely the point must be that, rather than engage in a kind of top trumps approach to the nuts and bolts and awesome capability of the aircraft available to today's Squadron separated by 75 years of innovation from the legendary Lancasters, it is surely more meaningful to consider the qualities of the people involved and how they innovate to overcome challenges.
As Wing Commander Butcher, who was named after his grandfather who flew Lancasters in World War Two, comments,
I think that Gibson would be very happy to see the Squadron once again reforming for a special purpose, staying true to the heritage of being at the cutting edge of aviation; I think he would like that.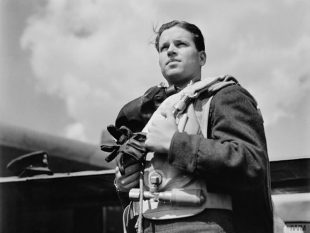 One case in point might be this – the importance of the stealthy nature of today's fifth generation jets. Of course, stealth was every bit as important to the Dambusters during their raids. After all, an enemy can't fire at what it can't see. But, as Wing Commander Butcher points out, things were very different then.
The F-35B Lightning uses stealth technology to hide from enemy radar systems, effectively making the aircraft invisible. In 1943, Gibson and his men flew at very low level to the target, (the crews had to navigate at night at heights of around 50 feet and deploy their bombs at a height of 60 feet).
But while today's aircrew are undoubtedly aided by superior technology, in no way does that mean they have an easy ride. Facing as they do a much broader range of task, the emphasis on training and understanding the equipment they are using to achieve success is the same.
So, while technology might save them the burden of flying their aircraft in a stealthy way, every bit of effort is equally needed to fly and complete their complex missions.
And the application of innovative thinking, using what you have to the maximum effect, has always mattered.
In 1943 the pilots approaching their targets faced the challenge of keeping their Lancasters at a precise height to effectively deliver their payloads against the walls of the dams. They achieved this by employing an ingenious, yet simple idea. Two Aldis lamps were fitted to each aircraft. They were arranged so that, when at the right height, the beams from the lamps would form two touching circles on the surface of the water below.
While hours of practice flying allowed crews to communicate and perfect the technique, any idea of a stealthy approach would soon evaporate when the lamps were switched on.
Illuminating your aircraft as you are about to bomb a target in the teeth of enemy fire requires the kind of courage and a steady nerve that comes from character and a belief in the importance of the mission. A character that spans the generations.
Of course, the major change for bomber crews since those days is the fortunate advantage they have with advances in technological positioning and intelligence capability. And in 1943 crews were only too aware of the self-sacrifice that every sortie engendered. Their life expectancy was short, and an average tour of duty measured just 30 missions.
While no one would claim today's crews face exactly the same challenges and threat level, they nevertheless accept that their work puts them in harm's way, and the enduring ethos that is 617 means they will not shrink from doing their duty.
Just like their predecessors, today's 617 Squadron are expected to explore the envelope of what is possible in their state of the art aircraft. One such example being the rolling landing onto the decks of the aircraft carriers. Typically, aircraft capable of vertical take-off and landing, such as the F-35, would recover to a carrier by hovering next to the ship, then traversing horizontally until over the heaving deck then, when the time is right, dropping down to secure a landing.
Our F-35s can do this but the F-35 pilots are also practicing landing by approaching the ship from behind and recovering as they would on a conventional landing strip and applying their brakes immediately they touch down on the deck to control their speed before taxiing into position. By doing this it means they can operate the aircraft more efficiently, returning with any unused weapons and with fuel in the tank. It is a manoeuvre that requires great finesse, a cool nerve and efficient communications with the ship.
Another common human thread running through more than seven decades of air power endeavour is the focus, dedication and professionalism of all who comprise the team on the ground as well as in the air, at the lab bench as well as in the cockpit.
In today's 617 Squadron of 170 people, there are pilots, safety equipment specialists, mission support staff, nearly 140 engineers as well as administrative staff to support all of them… there may only be one seat in the aircraft, but there are many more behind the scenes assuring the Squadron's continuing presence at the cutting edge of air combat capability.
So, the spirit of the Dambusters lives on in the new Squadron, or as Wing Commander Butcher puts it:
The spirit of the Dambusters lives on. Professionalism, determination and ability to operate cutting edge technology to deliver incredible results sits at the very heart of being a Dambuster; we often reflect on the remarkable bravery and skill those men showed 75 years ago, and remember that of all 617 Squadron personnel who have served since then.