Today's defence news features coverage of the Galileo satellite project, comments by the Chairman of the Defence Police Federation, and President Trump urging the UK to contribute more to NATO.
Galileo 
The Guardian led with news that the European Commission has intervened in the latest procurement round of the Galileo satellite project, preventing the UK from vetoing a proposal which would have seen UK companies excluded from the next round of contracts. The news is also covered in The Daily Mail and Times.
Science Minister Sam Gyimah said:
The government has been clear that our preference is to contribute fully to Galileo as part of a deep security partnership with the EU, and that negotiations should be allowed to run their course. By forcing through this vote, while excluding UK companies from the contracts on unfounded security grounds, the European Commission has put this at risk.

The simple fact is that without full, fair and open industrial involvement, Galileo doesn't offer the UK value for money or meet our defence needs, so we would be obliged to walk away, resulting in delays and additional costs to the programme that will run into the billions.

There is an option on the table that would benefit both the UK and EU. If that is not accepted by the EU, we are a proud and confident nation and will be looking at all alternatives.
Defence Police Federation
In comments picked up by The Sun, Daily Telegraph and Scotsman, the Chairman of the Defence Police Federation, Eamon Keating, has claimed that cuts to resources put the security of nuclear bases at risk and that officers feel unwanted and devalued with morale lower than ever.
A Ministry of Defence spokesperson said:
The MOD Police does vital work to protect key sites around the UK and we would never consider changes to our existing security arrangements that would put the safety and security of our people and assets at risk. The total strength of the MOD Police has been consistent over the last five years at around 2,500 officers and we expect numbers to increase over the next 12 months to meet the anticipated future demand for the force.
NATO
The Times reports that President Trump is urging the UK to contribute more to NATO and speculates on the outcome of the Modernising Defence Programme.
A Ministry of Defence spokesperson said:
The Defence Secretary launched the Modernising Defence Programme to strengthen our Armed Forces in the face of intensifying threats and we have been consulting widely throughout the process. Any talk on the outcome is pure speculation before we share our headline conclusions.
Image of the day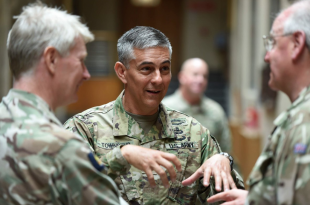 Follow us on Twitter, Linked in and Instagram and don't forget to sign up for email alerts.