Today's defence news is led by news of an independent review by Philip Dunne, Defence Secretary comments on Daesh and the First Sea Lord's appearance on Sky News.
Philip Dunne review
The Financial Times, the Telegraph, Guardian and others report that Philip Dunne's independent report into defence has underlined the industry's importance to the UK economy. The outlets note that industry has an annual turnover of £22bn, supports thousands of jobs, that its economic contribution included billions of pounds in exports, and notes its geographic spread across the UK.
The review was commissioned by the Defence Secretary Gavin Williamson after he launched the Modernising Defence Programme (MDP) to strengthen the Armed Forces in the face of intensifying threats.
Defence Secretary Gavin Williamson said:
Philip Dunne's review shows how vital defence is, not only protecting us from global dangers and safeguarding our national prosperity, but also to our economy by creating thousands of specialist and highly-skilled jobs and creating billions in exports.

He paints a clear picture of how defence and defence industry reaches every corner of the UK and is central to employment in so many cities and towns.

He lays down some key challenges to consider as our Modernising Defence Programme continues to ensure defence is the best it can be in a post-Brexit Britain.
Read more here: https://www.gov.uk/government/news/british-prosperity-relies-on-defence-according-to-independent-review
Defence Secretary on Daesh
The Telegraph and the Daily Mail say that the Defence Secretary has said Britain must wipe Daesh out in Syria, or risk fighting a future insurgency. The paper reports his calls to sustain the momentum to destroy Daesh, and while almost virtually absent from Iraq and degraded in Syria, their fighters still remain hidden in unpopulated desert areas, adding concerns they might gain a foothold in Afghanistan.
Defence Secretary Gavin Williamson said:
Daesh is facing territorial defeat in Syria and Iraq but the battle against their poisonous ideology and barbarism is not over. We must be prepared as the terrorists change their approach, disperse into other countries and prepare for a potential insurgency.

Daesh remains the most significant terrorist threat to the UK due to its ability to inspire, direct and launch attacks. That is why we continue working through the Global Coalition to hunt down Daesh terrorists wherever they lurk.
First Sea Lord interview
On Sky News and online today, the First Sea Lord has said that a Joint Area of Operations (JAO) will be created for the North Atlantic.
Image of the Day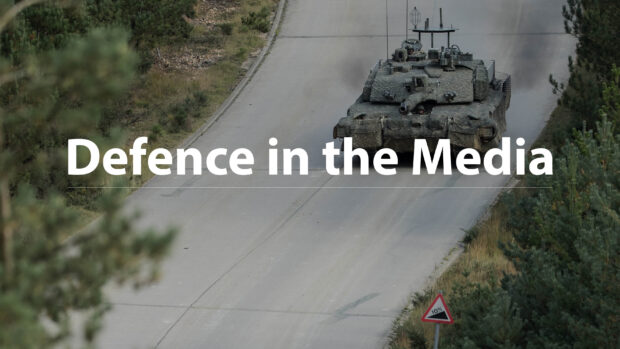 Follow us on Twitter, Linked in and Instagram and don't forget to sign up for email alerts.