Defence news today focused on the Global Coalition against Daesh.
Syria
There has been widespread coverage across broadcast, print and online media today concerning comments made by US President Donald Trump yesterday on US involvement in Syria.
A UK Government spokesperson said:
The Global Coalition against Daesh has made huge progress. Since military operations began, the Coalition and its partners in Syria and Iraq have recaptured the vast majority of Daesh territory and important advances have been made in recent days in the last area of eastern Syria which Daesh has occupied. But much remains to be done and we must not lose sight of the threat they pose. Even without territory, Daesh will remain a threat.

As the United States has made clear, these developments in Syria do not signal the end of the Global Coalition or its campaign. We will continue to work with members of the Coalition on achieving this. We remain committed to the Global Coalition and the campaign to deny Daesh territory and ensure its enduring defeat, working alongside our critical regional partners in Syria and beyond.

As the situation on the ground develops, we will continue to discuss how we achieve these aims with our Coalition partners, including the US. This Government will continue to do what is necessary to protect the British people and our allies and partners.
Image of the Day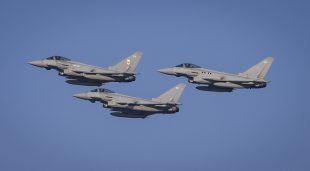 Follow us on Twitter, Linked in and Instagram and don't forget to sign up for email alerts.