Today's defence related news includes coverage of HMS Queen Elizabeth's departure from Portsmouth to the US and Canada.
Image of the Day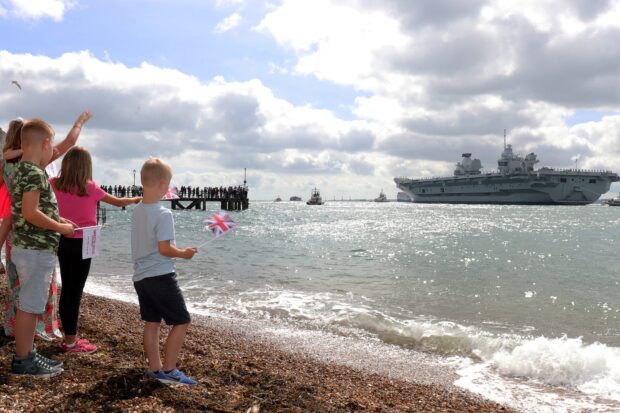 HMS Queen Elizabeth deploys from Portsmouth
While at sea, HMS Queen Elizabeth will be accompanied by other units of the Commander UK Carrier Strike Group including a Type-45 destroyer, a Type-23 frigate and air assets from the Carrier Air Wing. This provides vital warfighting skills and training for each element to the Royal Navy's potent carrier strike capabilities.
Coverage of the departure ran throughout the day. Good Morning Britain ran live segments about the upcoming deployment on their hourly morning news bulletins. This included an interview with Commodore Mike Utley, who said that the ship was testament to British industry and paid tribute to the skilled crew that would allow the sea trials to be carried out with the US.
Print coverage from this morning appears in the Times, Press and Journal, Scotsman and the Daily Record. The reporting noted that this will be the first time British F35s take off from the flight deck.
During the afternoon, the carrier also featured in ITV's lunchtime news bulletin.
Read more about the deployment on the Ministry of Defence's website
Defence Minister Anne-Marie Trevelyan said:
"HMS Queen Elizabeth is symbolic of the UK's global reach and power. As she enters this stage of the programme, she will demonstrate her immense engineering, capability and battle readiness.
"As she makes her second voyage across the Atlantic, HMS Queen Elizabeth will also strengthen our special relationship with the US and Canada. Our naval forces will visit Canada then spend the coming months working and training side by side with the US to ensure the UK's carrier strike is ready for operations in 2021."
Follow us on Twitter, join us on Linked in, follow our Instagram page and don't forget to sign up for email alerts.