Defence Secretary Michael Fallon has hosted a visit by the US Secretary of Defense Ashton Carter in London.
At a press conference at Lancaster House, Mr Fallon and Mr Carter spoke about the special relationship between the US and UK, and how the two nations continue to stand shoulder to shoulder in the face of emerging threats, including ISIL and resurgent Russian aggression.
Defence Secretary Michael Fallon's full opening remarks can be found below.
Michael Fallon, Defence Secretary:
It's a great pleasure to welcome Secretary Carter to London. The US remains the UK's pre-eminent Defence ally. Our relationship works because of the effort our leaders put in, none more so than Ash Carter.  We are extremely fortunate to draw on his formidable expertise, his experience, and his leadership in a darker and more dangerous world.

Our two nations continue standing shoulder to shoulder against multiple and concurrent dangers, and the first part of our meeting this morning focused on operations where in the Middle East we're degrading ISIL, reducing the territory they hold, conducting strikes, and training moderate forces.  We're cooperating on freezing their finances, stemming the flow of foreign fighters, and countering their corrupt ideology.

We also spoke about Russia.  By propping up Assad instead of defeating ISIL, Russia risks making a grave situation much worse.  We want Russia to use its influence with Assad to find a diplomatic solution and help alleviate the humanitarian crisis.  Meanwhile, aggressive Russian behaviour continues, threatening our allies in Europe, so NATO's reassurance role is vital.

At yesterday's defence ministerial meeting in Brussels, I announced that the United Kingdom is joining the Transatlantic Capability Enhancement and Training Initiative (TACET) alongside the Unites States and Germany, to help deliver a persistent military presence to the Baltic States and to Poland.  I also said we will be increasing our support for Ukraine into the next financial year.

Finally, we discussed Afghanistan, our collective efforts have helped that country to make huge progress, but there are recent events that are concerning and we'll be looking closely over the coming months at how best to continue supporting the Afghan government.

Besides our current operations, Secretary Carter and I also discussed the future and our strategic defence and security review; how a growing budget lets us concentrate on a full and comprehensive review, how we can take our technological… how we can't take our technological advantage for granted in an uncertain world and how we must become ever more innovative, harnessing new technology, and adapting our operational concepts.  And here our great nations have some history.

75 years ago, the scientific mission led in the darkest days of the war by Henry Tizard led onto the pioneering technology that helped win that world war, and founded between London and Washington, between our two countries a scientific partnership that continues to flourish today, with collaborations such as the F-35 stealth fighter, the world's largest defence programme.

But today, Secretary Carter and I challenge our teams to tighten their transatlantic ties even further, bringing forward plans to match Henry Tizard's ambition.  First, to tap the brightest brains from Government, academia and enterprise to enhance our capability in cyber, in space, in autonomy and in robotics.  Our nations currently cooperate on a range of innovative research projects from insect-inspired micro-UAVs to quantum clocks.  Some of that effort is concentrated in Imperial College London, Tizard's alma mater, which we will both be visiting later today.  But we can do more, so second we need to work smarter, drawing on each other's expertise to become stronger than the sum of our parts.  Third, we must jointly test out those innovations, rapidly adapting our plans and concepts to fit the new environment, and to signal our intent.

I am today announcing that the United Kingdom will be investing more than £70 million over the next five years in innovation.  That forms a key plank of the new strategic defence and security review, letting us throw open the doors to ingenuity, letting us select from the widest possible sources of inspiration and become innovation by instinct, so that we can plan, develop and deliver the cutting edge capability our future forces need.

75 years after their mission in one of the darkest months of the war, the United States and the United Kingdom are evoking the spirit of that mission, electrifying our energies to stand stronger together in pursuit of our security and stability for our two nations and for our allies and partners.
ENDS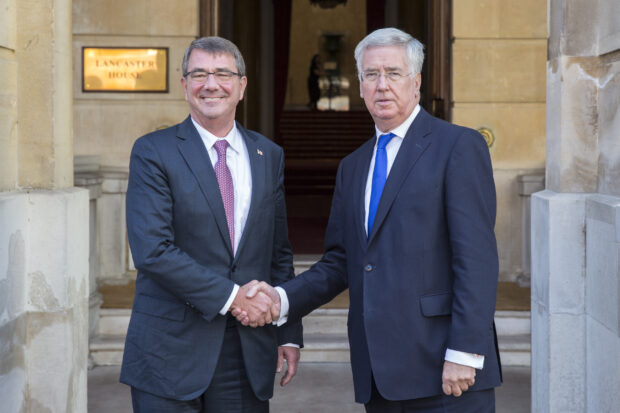 Follow us on Twitter and don't forget to sign up for email alerts.