In today's round up of defence news there is reporting on Exercise Shamal Storm, Cadet drug use and the The Royal Salute fired by C Troop 211 Battery.
French Commander
The Telegraph reports that a French general will command a division of British soldiers for the first time, as part of an exchange strengthening cross-Channel military ties. British officer Col Nick Nottingham will take up a similar role in the French army.
An Army spokesperson said:
These and the 17-plus posts that are exchanged between the French and British armies demonstrate the long term commitment to providing security at home and abroad.
Shamal Storm
The Telegraph reports on Exercise Shamal Storm, in which more than 1,000 troops will head to Jordan to practise an "Iraq invasion-scale" operation for the first time in more than a decade.
An Army spokesperson said:
The annual exercise in Jordan presents the British Army with a challenging environment in which to assure its combat readiness to deploy and support an armoured force of up to 30,000 troops anywhere in the world. The exercise will test key concepts such as the air deployment of a very high readiness field hospital and the latest explosives ordnance disposal and search capabilities, all of which will enable us to be more agile in deterring threats to the UK and its interests.
Cadet Drug Use
The Times, Daily Mailand Telegraph write that nine Army cadets have been taken to hospital at the weekend following suspected drug use at Altcar Training Camp in Merseyside.
An Army spokesperson said:
We're aware of an incident at Altcar Training Camp involving members of Merseyside Army Cadet Force. Merseyside Police are investigating and so it would be inappropriate to say anything further at this stage.
RAF Training Corps Anniversary
A large number of papers including the Times, Telegraph and Express carry images and stories from the Duchess of Cambridge attending a church service and reception to mark the 75th anniversary of the Air Training Corps. Many report that Prince George loves aeroplanes and wants to be an RAF cadet when he's older.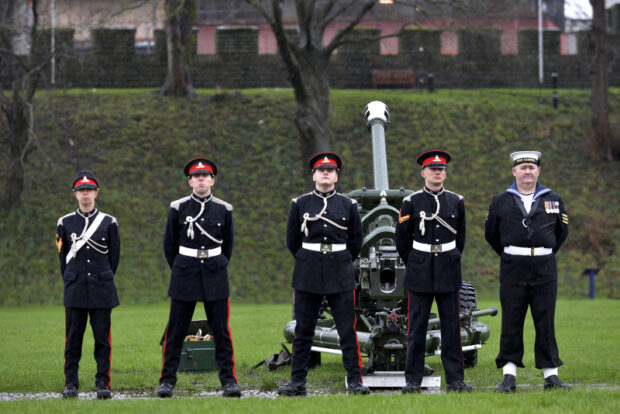 Follow us on Twitter and don't forget to sign up for email alerts.