Of note in Defence news today is reporting on the new inquest into the death of Private Cheryl James, and coverage of the new £201m contract to develop Britain's new nuclear submarines.
Deepcut
There is widespread coverage in today's papers of the new inquest into Private Cheryl James' death at Deepcut Barracks in 1995. The Independent leads with a picture of Pte James on the front page and writes that new forensic evidence reveals the teenage army recruit may not have shot herself. A similar angle is taken widely across the media. Many newspapers, including The Daily Telegraph, Daily Mail, The Sun, Daily Mirror, The Guardian, Daily Star and the Daily Express, also cover Surrey Police QC's line of questioning in court, who suggested that Des James, Pte James' father, 'distracted' police officers from Milly Dowler's murder case in 2002 by asking questions about the investigation into his daughter's death.
The MOD's position on the inquest is below.
An MOD spokesperson said:
Our thoughts remain with the family and friends of Private Cheryl James. The inquest is now a matter for the Coroner; we have cooperated fully with his direction throughout this process and will continue to do so.
Successor
The Daily Telegraph writes that the Ministry of Defence has awarded a £201m contract to BAE systems to develop Successor vessels. The story comes ahead of the MOD's formal announcement of the contract award today.
Defence Secretary Michael Fallon said:
The round the clock nuclear deterrent is as crucial to Britain's national security now as it has ever been. We use it everyday to deter extreme threats that cannot be countered by any other means.

When there are 17,000 nuclear weapons in the world, we can't wish away threats we face now and those that may emerge in the 2030s, 2040s, and 2050s.
Syria
There is continued coverage of the crisis facing Syrian migrants, with reporting that tens of thousands of Syrians fleeing a Russian-backed government advance on Aleppo remain stranded near the Turkish border, with no signs that the authorities in Ankara will respond to mounting international pressure to allow in more refugees. Articles are carried in The Times, The Guardian and The Independent.
NAO report
The Times carries an article on the cross-government NAO report published today, which looks at gifts and hospitality for civil servants. The article references the DE&S arm of the MOD, saying it reported over £100,000 worth of gifts last year. The MOD's full position on this can be seen below.
A Ministry of Defence spokesperson said:
The MOD is committed to upholding both the Civil Service Code and Queen's regulations on acceptance of gifts and hospitality. All instances of hospitality, whether accepted or declined, are recorded and a 2015 Corporate Standards Review has improved our already robust procedures.
Image of the Day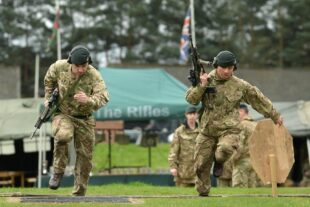 Follow us on Twitter and don't forget to sign up for email alerts.